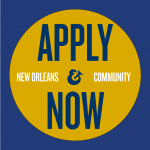 POSITION TITLE: REGIONAL SALES ACCOUNT EXECUTIVE – CHICAGO 
DEPARTMENT: CONVENTION SALES
ACCOUNTABLE TO: SR. VP OF CONVENTION SALES & STRATEGIES
STATUS:  EXEMPT, FULL-TIME
Primary Objective of the Position:
Promote New Orleans as a premier meeting destination by generating sales leads, attending industry shows and conducting personal sales calls. This role will represent New Orleans & Company in the marketplace with the primary responsibility of generating business leads for the New Orleans & Company sales team. Visibility and attendance at all major industry events in primary and secondary markets is required. This position will plan customer events with the New Orleans based team and work collaboratively to elevate the destination. This is a Chicago based position.
Major Areas of Accountability:
Maintain appropriate contact with potential clients to meet qualified sales lead goals. Develop leads for the New Orleans office through telephone solicitation, regular correspondence, personal visits to clients and by attending industry functions.

Follow-up on requests from meeting planners for proposals and/or requests for information to ensure that client's needs are satisfied in collaboration with the New Orleans based team members.

Keep convention sales database up to date by entering client call reports and daily traces to ensure that the information is current and accurate in Simpleview, the official CRM of the company.

Coordinate creative, informative presentations for potential corporate and association accounts. Generate sales leads for new business and service confirmed business, when necessary, along with New Orleans based sales and services team members.

Assist in planning and executing annual client events including development of budget, selection of food and beverage and coordinating site details.

Participate as a member of the convention sales team, in developing new strategies to promote/sell New Orleans as the premier meeting, conference and convention destination.
7. Prepare various weekly and monthly reports and complete special projects as assigned.
Assist other sales staff and members with scheduling appointments to assist in the solicitation and generation of leads for new business.

Keep abreast of current events and new developments to more effectively assist clients and answer questions which will encourage them to look to the regional office as a sales resource.

Manage regional office budget responsibly and within finance guidelines.

Submit accurate expense reports and meet all financial deadlines.

Perform other responsibilities or special projects as assigned.
Education and/or Experience:
Bachelor's Degree or equivalent from four-year college or university; and five to seven years related experience and/or training or equivalent combination of education and experience.
Computer Skills:
Must be proficient in Microsoft or similar. Knowledge of spreadsheets and database programs, desired.
Language Skills:
Possess excellent verbal and written communication. Ability to read and interpret documents and to author routine reports and correspondence. Ability to speak effectively before groups of customers or employees of the organization.
Physical, Mental & Environmental Demands:
While performing the duties of this job, the employee is regularly required to sit; and use hands to finger; reach with hands and arms; and talk or hear. The employee is required to stand and walk. The employee must occasionally lift and/or move up to 10 pounds. Specific vision abilities required by this job include close vision, distance vision, peripheral vision, and depth perception. Must be able to travel by airplane and operate a vehicle.
The working environment is typical for an office and does not require exposure to difficult or hazardous conditions. This position will require some weeknight and weekend assignments, often on location. Ability to travel including overnight stays. Must work well in a team environment.
Disclaimer Statement:
The above is intended to describe the general content of and requirements for performance of this job. It is not to be construed as an exhaustive statement of duties, responsibilities or requirements and does not imply a contract.
Responsibility for Work of Others: Supervision of one (1) New Orleans based sales coordinator. Work as assigned with other New Orleans based sales account executives.
New Orleans & Company provides equal employment opportunities to all employees and applicants for employment without regard to race, color, religion, gender, sexual orientation, gender identity, national origin, age, disability, genetic information, marital status, or status as a covered veteran in accordance with applicable federal, state, and local laws. New Orleans & Company complies with applicable state and local laws governing non-discrimination in employment in every location in which the organization has facilities. This policy applies to all terms and conditions of employment, including, but not limited to, hiring, placement, p romotion, termination, layoff, recall, transfer, leaves of absence, compensation, and training.