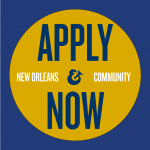 Join us for this incredible opportunity to be part of our Front Office team as the Front Office Manager at the Hyatt Regency New Orleans. Not only will you be part of a rock-start team who lives their purpose of caring for people so they can be their best, but you'll get to be part of a company that earned the 16th spot on Fortune's 100 Best Companies to Work For in 2021, honored as one of the top 100 Companies that Care according to People, named Built-In's 100 Best National Large Companies to Work For in 2022, recognized as a Best Place to Work for Women, Diversity, LGBT Equality, and Millennials, and named one of New Orleans Best Places to work 9 years running!
The Front Office Manager is responsible for all duties of the front desk operation which includes staff training, inter-department communications, and staff scheduling. The Front Office Manager should possess strong communication skills and demonstrate leadership abilities. In addition to assisting in the operation of the Front Office operation and guest services personnel, this position will respond quickly to guest requests and/or complaints in a friendly manner and ensure that appropriate action is taken to guarantee guest satisfaction. This position reports to the hotel Rooms Director.
Duties include:
Responsible for short- and long-term planning and the management of the hotel's Front Office operations
Develop and recommend the budget, labor cost plans and objectives and manages within those approved plans
Maintain guest room inventory
Coach and counsel employees to reflect Hyatt Service Standards and Procedures
Perform all tasks of a Front Office Staff as needed to facilitate service
Ensure all operations and cash handling are done per policies and procedures
Maintain excellent communication with the housekeeping department
Maintain information on prices, rates, specials, packages, programs, etc, while ensuring all staff are trained in all areas
Analyze, investigate, and resolve guest complaints
Create expectations, lead people, manage processes, and hold people accountable for the agreed upon activities and timetables
Insures proper staffing levels for customer service goals
Coach and counsel employees to reflect Hyatt service standards and procedures
Qualifications
Demonstrated ability to effectively interact with people of diverse socioeconomic, cultural, disability, and ethnic backgrounds
Service oriented style with professional presentations skills
At least 2 years progressive management experience within the Rooms Division of a mid to large scale hotel 
Degree with an accredited university. Hotel/Hospitality degree an asset
Must possess the following strengths: high energy, entrepreneurial spirit, motivational leader, effective communicator, effective in providing exceptional customer service and ability to improve the bottom line
Clear concise written and verbal communication skills in English
Must be proficient in Microsoft Word and Excel
Must have excellent organizational, interpersonal and administrative skills
Ability to work a flexible shift including nights, weekends, and holidays.
Hyatt is a place where high expectations aren't just met-they're exceeded. It's a place of outstanding rewards, where talent opens doors to exciting challenges in the hospitality industry.  It's a place where career opportunities are as unlimited as your imagination. Discover your place to shine in our warm, respectful, and inclusive culture. 
Our excellent benefits include:
· Free room nights, Discounted and Friends & Family Room Rates
· Medical, Prescription, Dental and Vision Insurance
· 401K with company match
· Paid Time Off, Holiday Pay, new child leave and personal day
· Paid Family Bonding Time and Adoption Assistance
· Employee Stock Purchase Plan
· Discounts at various retailers – Apple, AT&T, Verizon, Headspace and many more
COVID-19 Safety: Hyatt Hotels follows all COVID-19 CDC and US Health department protocols for the safety of our employees and guests.
Hyatt is an equal opportunity employer. Qualified applicants will receive consideration for employment without regard to race, color, religion, sex, sexual orientation, gender identity, national origin, disability or protected veteran status.