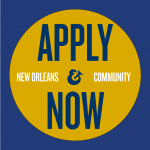 Website New Orleans Secrets
Tours and Adventures to Unlock New Orleans
We are seeking a B2B sales representative to join our growing, locally-owned business for 30 to 40 hours per week. In addition to developing and maintaining products to online distribution channels and connecting/building relationships with travel agents, influencers, hotel concierges, and meeting planners, this individual will assist in creating custom tours, phone reception, routing and responding to emails, and creating content that promotes brand awareness. Knowledge of New Orleans (especially tourist destinations) and exceptional customer service skills are a must. This is a position that can be filled remotely within the New Orleans metro area with visits to the French Quarter and New Orleans a few times each month for event execution, sales meetings, and networking events. Depending on the employee's success in this function, there is opportunity for this position to become a management role.
Sales & Marketing Representative – Duties and Responsibilities
This is a multi-faceted role:
     Marketing & Sales
Identify distribution channels that fall into established parameters of targeted audience reach
Expand brand awareness through digital prospecting of social media influencers and travel writers
Utilize software programs such as Reposite and LinkedIn to connect with potential clients
Increase revenue by establishing new distribution channels and partners
Create custom tours and experiences that solve clients' needs and exceeds their expectations, working with vendors and venues as necessary
Meet with clients (virtually) to uncover pain points and product desires
Create booking contracts for client tours and experiences
Review and negotiate contracts with experience-related vendors and venues
Review website analytics and update content to increase conversions
Work with Office Manager for staff fulfillment for tours requests/booked
Communicate sales collateral needs with Graphic Designer and Copywriter
Assist with staff training sessions with regard to marketing and sales
Promote special events
Follow up with past clients for reviews that can be used in advertising
Maintain working knowledge of all public and standard on-demand tours that are provided by New Orleans Secrets
Provide content photos and articles to Social Media Manager for use on websites, blog, newsletter, and social media with a focus on education, inspiration, and connection
Compile monthly sales reports for management review
     Administrative
Maintain email list and distribution channel for guest communications outside of booking platform
Be primary phone, email, and social media reception while on duty and respond to inquiries or direct them to the correct person for follow up as necessary
Take tour bookings
Contact future tour guests as needed to discuss allergies, tour cancellation and payment
Make reservations for future tours and send daily notifications to our restaurant partners
Assist with logistics planning for tours and experiences
Act as problem solver and assist tour guides while they are on tour with any issues they may encounter
Assist in responding to comments and reviews on social media channels and platforms and take necessary actions as prompted by those communications when necessary
     Special Projects
There may be special projects assigned from time to time that fall within the scope of the job duties of this position
Sales & Marketing Representative – Requirements and Qualifications
It is critical that the Sales & Marketing Representative team member be/have:
A deep love for New Orleans and her unique culture
Proficient in computer and mobile technology use
Proficient in Microsoft Office Word and Excel
Self starter who can work with a team
Excellent customer service skills and customer-centric mindset
Proven sales or business development experience
Ambitious and eager yet deliberate and ethical
Public relations experience is a plus
Employee Benefits
Benefits include:
Flexibility to work at home for most of the time
Scheduling flexibility
Paid vacation and holidays
Year-end bonus plan
Career growth path
Team-oriented atmosphere
Paid training
Book/resource lending library
Pay Rate
This is a W-2 position with pay rate $18 – $23 per hour, commensurate with experience.