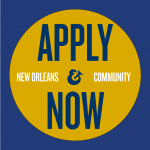 Website The National World War II Museum
The National WWII Museum is currently seeking an Executive Assistant to the Vice President of Institutional Advancement.  This position enhances the VP's effectiveness by providing information management support, direct administrative support, and maintaining files and records for the department. 
Responsibilities:
Prepares complex and confidential correspondence, reports, and proposals; distributes materials to other Museum professional staff for information and /or disposition; researches and composes draft correspondence and documents for the VP's signature; reviews materials prepared for the VP's approval for accuracy and proper format.
Schedules appointments; maintains VP's calendar and daily schedule; arranges conferences and meetings and travel for the VP; assembles background materials as directed.
Acts as a liaison between the VP and other agencies; uses independent judgment and takes appropriate action to resolve problems and answer questions.
Coordinates Institutional Advancement meetings including preparing the agenda; assembling materials; and taking, transcribing, and distributing minutes.
Assists in the development and monitoring of budgets and work plans.
Responds to inquiries for VIP tours and collaborates as necessary.
Provides organizational and staff support for meetings of the Board of Trustees and board committees.
Assists the VP in developing proposed Museum policy drafts for review and action by the President & CEO as needed.
Qualifications:
Bachelor's degree preferred and a minimum of five years senior level administrative experience associated with executive assistant functions, preferably in a non-profit institution.  Experience in a development or alumni relations department is a plus.
Proficiency in Microsoft Word, Excel, and Outlook as well as internet applications.  Experience with constituent/donor records systems, especially Blackbaud, is a plus.
Extensive knowledge of office procedures and knowledge of computers and related software plus knowledge of basic office equipment.
Exceptional oral and written communication skills.
Ability to work with sensitive and confidential information.
Exceptional organizational and interpersonal skills; ability to perform in a collaborative work environment.
Ability to work on multiple assignments under pressure and to consistently meet deadline schedules.
Strong attention to detail and accuracy.
Willingness to work overtime as necessary during special events, heavy visitation periods or as project deadlines require.
In addition to offering competitive wages, the Museum's benefits package includes:
Medical insurance – 2 plan options; Museum pays 75% of premium
Dental and vision insurance
Flexible spending account
401(k) – Museum matches 50% of employee contribution up to 6%; employer contribution full vested after 3 years of employment
Life insurance and AD&D – $15,000 policy employer paid; additional life and AD&D available
Long term disability insurance
Paid vacation and sick leave, 10 paid holidays per year
Free parking
Tuition assistance and professional development
Employee assistance program
The National WWII Museum is an equal opportunity employer and seeks diversity in its workforce.  We are dedicated to a policy of non-discrimination in employment on any basis including race, color, religion, age, sex, national origin, disability status, genetics, protected veteran status, sexual orientation, gender identity or expression, or any other characteristic protected by federal, state, or local laws.  Consistent with the Americans with Disabilities Act, applicants may request accommodations needed to participate in the application process.
Interested candidates should apply online at www.nationalww2museum.org/employment or mail resumes to 945 Magazine St., New Orleans, LA 70130.