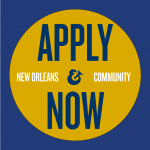 Website The National World War II Museum
The National WWII Museum is currently seeking a Summer Camp Intern.  This temporary position will assist with the implementation of the Museum's summer camps program that features themes around spying and puzzles, STEM and innovation, storytelling, and theater – all within the context of World War II.  The Summer Camp Intern will support daily summer camp instruction by facilitating camp activities, monitoring and engaging campers, and ensuring the safety and success of camp participants.
Applicants should have an interest in working with children, as well as a curiosity and desire for continuous learning.  They should have a fun-loving, energetic personality and a positive attitude.
Responsibilities:
Interact with children of various ages.
Organize camp materials and projects.
Assist with implementation of summer camp activities, with the possibility of leading activities as needed.
Support the creation of an engaging and fun learning environment for campers.
Qualifications:
Must be at least 18 years of age.
Must have experience working with children of various ages.
Be able to communicate with children and adults.
Must have good organization and time management skills.
Must be creative and solution oriented.
The Summer Camp Intern must be available Monday – Friday from June 5 – July 21, as well as for additional training.
The National WWII Museum is an equal opportunity employer and seeks diversity in its workforce. We are dedicated to a policy of non-discrimination in employment on any basis including race, color, religion, age, sex, national origin, disability status, genetics, protected veteran status, sexual orientation, gender identity or expression, or any other characteristic protected by federal, state, or local laws. Consistent with the Americans with Disabilities Act, applicants may request accommodations needed to participate in the application process.
Interested candidates should apply online at www.nationalww2museum.org/employment or mail resumes to 945 Magazine St., New Orleans, LA 70130.