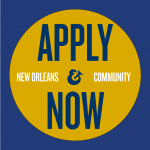 POSITION TITLE: VIDEO EDITOR
DEPARTMENT: MARKETING/COMMUNICATIONS
ACCOUNTABLE TO: VICE PRESIDENT of MARKETING & SPECIAL PROJECTS
STATUS: FULL-TIME, EXEMPT
Primary Objective of the Position:
The Video Editor will be tasked with taking the raw footage shot by a videographer and/or film crew and director and turning it into a final product to be used by New Orleans & Company's various departments, including Marketing and Communications, Convention Sales and Strategies, Tourism and Membership. The effort will include working with a concept outline, script or shot list and assembling the footage into one cohesive video or film as requested. The Video Editor will be responsible to review all the footage and create the best output by cutting and connecting various video and film footage, adding sound, special effects, and graphics, and fine-tuning the completed video or film.
This person must excel in a fast-paced environment and be able to balance multiple projects simultaneously. The right candidate will use their creative eye and organizational skills to help us create compelling video content that inspires visitation to New Orleans, highlights the community impact of New Orleans & Company, and promotes our city as a top-destination for groups, meetings, and conventions.
The Video Editor is responsible for the production of editorial video content that highlights unique things going on in New Orleans and supports our strategic marketing goals throughout the year. The Video Editor will work with a small team to create localized content to help our audiences better understand the work of New Orleans & Company and the events, attractions, and culture of our city. Using Adobe Premiere & After Effects, the Video Editor will create valuable, easy-to-understand video content that stands out in the crowd. This position will also edit longer-form content as needs arise.
Major Areas of Accountability:
• Use Adobe Premiere & After Effects to edit videos
• Produce a high volume of timely, short-form videos
• Edit long-form videos for series production as needed
• Reproduce edited videos to meet specifications of various distribution channels where the videos will be published or shared
• Work closely with Creative Leads to maintain high production value
• Take notes and direction from Creative Leads to implement feedback quickly
• Understand and implement best practices for media storage and project organization
• Manage production calendars and balance deadlines across multiple departments
• Budget your time to increase video production, while keeping quality high
• Maintain meticulous records of upcoming projects, videos in progress, and delivered projects
• Collaborate with colleagues to develop new concepts and ideas
• Coordinate with Editorial and Web Teams to upload and/or publish videos in a timely manner
• Organize and string together raw footage into a continuous whole according to scripts or the instructions of directors and producers
• Edit footage to insert music, voice audio, and sound effects, to arrange films into sequences, and to correct errors, using editing equipment
• Select and combine the most effective shots of each scene to form a logical and smoothly running story
• Create on-brand motion graphics, including but not limited to transitions, lower thirds, titles, opening and closing graphics, animated icons, and logos 
•Record needed sounds or obtain them from sound effects libraries
• Conduct video screenings for Creative Leads, Directors, Key Stakeholders, and Executives as requested
• Working closely with Creative Leads to present a final product that matches the project request, script and/or outline
• Knowledge and a good understanding of motion graphics
• Ability to improve and correct lighting, coloring, and/or faulty footage is preferred
• Understanding of digital channels and audiences and the types and styles of video content that appeals and works in those various spaces
• Enthusiastic about New Orleans and has a strong understanding of what makes the city unique
• Consistently up to date on digital video trends, best practices, and innovative editing techniques
Education and/or Experience:
Bachelor's degree or equivalent from a four-year college or technical school; and five years related experience and/or training or equivalent combination of education and experience. Coursework concentrating on cinematography or film/video editing is preferred.
Computer Skills:
Proficient in Adobe Premiere Pro + After Effects
Language Skills:
Possess excellent verbal and written communication. Ability to read and interpret documents and to write routine reports and correspondence. Ability to speak effectively before groups of customers or employees of the organization.
Physical, Mental & Environmental Demands:
While performing the duties of this job, the employee is regularly required to sit; and use hands to finger; reach with hands and arms; and talk or hear. The employee is required to stand and walk. The employee must occasionally lift and/or move up to 10 pounds. Specific vision abilities required by this job include close vision, distance vision, peripheral vision, and depth perception. Must be able to travel by airplane and operate a vehicle.
The working environment is typical for an office and does not require exposure to difficult or hazardous conditions. This position will require some weeknight and weekend assignments, often on location. Ability to travel including overnight stays. Must work well in a team environment.
Disclaimer Statement:
The above is intended to describe the general content of and requirements for performance of this job. It is not to be construed as an exhaustive statement of duties, responsibilities or requirements and does not imply a contract.
Responsibility for Work of Others: None
*Assists interns as needed.
New Orleans & Company provides equal employment opportunities to all employees and applicants for employment without regard to race, color, religion, gender, sexual orientation, national origin, age, disability, genetic information, marital status, or status as a covered veteran in accordance with applicable federal, state, and local laws. New Orleans & Company complies with applicable state and local laws governing nondiscrimination in employment in every location in which the organization has facilities. This policy applies to all terms and conditions of employment, including, but not limited to, hiring, placement, promotion, termination, layoff, recall, transfer, leaves of absence, compensation, and training.