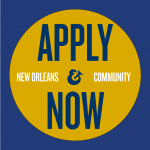 Website New Orleans Chamber Of Commerce

This in-office position acts as the face of the Chamber through interacting with all levels of membership when they call or communicate through other means, as well as in-person at Chamber events. Responsible for all Administrative processes required to keep the Chamber's office in order. The person in this position acts as the liaison with the Board of Directors. This position also acts as the Office Manager with responsibility for the overall office tasks, and collaborates with and supports the CEO and the Directors.  
Categories of Essential Functions for this position include Administration, Internal Office Management, Systems Maintenance, and Membership/Events Support, Administrative support for CEO and Other Directors, Support Community Activities and Events, Support all levels of membership and manage information (administrative, membership, and financial) in systems. 
The organization has a cohesive team that works well together to achieve the common goals and vision of the Chamber. This is a highly interactive and collaborative environment that is ideal for an employee who wants to be involved in learning, being part of a dynamic team, and is comfortable interacting with the business community. This position is an important part of the overall team in providing services to the membership and the regional community it serves. 
Knowledge, Skills and Abilities:
• Advanced computer skills in Microsoft Office Suite, QuickBooks, and Chamber Master database required
• Detail-oriented work style
• Ability to collaborate effectively and act as an integral part of a team
• General understanding of office work and equipment
• Excellent oral communication and interpersonal skills along with the ability to interact with all levels of business owners and sponsor representatives
• Ability to handle multiple assignments simultaneously
• Excellent verbal and written etiquette skills
• Excellent listening skills
Working Conditions and Physical Effort:
• Work is performed in typical interior/office work environment
• Some outside work required, driving a car
• Work performed in a variety of locations
• Some physical effort is required
Benefits Provided:
• Paid Vacation and Paid Major Holidays
• Employee Health Insurance Premiums covered at 100%
• Dental benefits
• Term Life and Short Term Disability Insurance
• 401K plan with company match up to 4%
• Health Savings Account 
• Paid Parking 
• Cell Phone Allowance