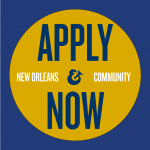 Website Cafe Reconcile
Building Hope and Changing Lives
Trainer Advocate
Job Announcement
 
Reconcile New Orleans, Inc. (RNO) (Cafe Reconcile), a pillar of the community since 2000, offers delicious New Orleans cuisine, a family-friendly environment, and an opportunity for New Orleans youth to shine. Our innovative life skills and the job-training program serves young people aged 16–24 who desire to connect to employment and education. Throughout our program, students are inspired to sharpen the skills they already possess and to follow their dreams through support to overcome personal barriers.
The Trainer Advocate (TA) will provide direct hospitality service training to program participants and customer service to guests. Direct hospitality service training will be conducted in the café before and during cafe operational service hours. Trainer advocates will work directly with program participants to execute operations both in the back of the house (BOH) and front of the house (FOH). 
This is a full-time position Monday through Friday, 8 AM to 3:30 PM. Will include after-hours for events like graduation and alumni engagements.
Required Qualifications
·         Two years of restaurant service experience
·         Desire to train and work alongside young adults
·         Leadership or management experience is a plus
·         Knowledge of both front and back of the house operations
·         Must be fully vaccinated
Primary Responsibilities:
·         Participate in pre-shift and end-of-shift meetings with program participants
·         Attend professional development sessions after café operational hours biweekly
·         Track daily intern progress in the ETO database after operational service hours of the cafe
·         Communicate effectively with other team members about the needs of program participants
·         Facilitate a Word Of The Day (WOD) discussion as assigned during community breakfast
·         Lead a FOH or BOH training with support from the FOH or BOH Manager and the Curriculum and Training Manager during program participant rotations
·         Be well versed in the expectation of conduct and workplace guidelines established for program participants upon enrollment in the program by participating in all workshops offered to program participants
·         Uphold expectations established for program participants during training and after hours
·         Execute, train, and support program participants through direct hospitality service training in all stations of the café
·         Demonstrate positive leadership characteristics with team members and program participants, specifically through the role modeling of Reconcile's 8 Habits, to inspire a culture of excellence
Organization/Team Cohesion:
·         Actively participate in team meetings, all but not limited to pre-shift, staffing, and all staff meetings
·         Attend staffing meetings weekly to discuss program participants' progress which are held on Wednesdays after operational service hours of the cafe
·         Practice effective communication with all team members and program participants
·         Responsibilities also include performing tasks that support and contribute to the café and program teams, with other duties assigned to meet annual organizational goals
Wages are commensurate with qualifications and experience. RNO offers an excellent benefits package to all full-time employees, including medical benefits paid at 100% and a retirement option. RNO is an equal-opportunity employer. Interested applicants should send a resume with professional references to:
Martha Wiggins
Executive Chef
mwiggins@cafereconcile.org