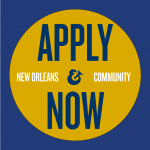 Website City Sightseeing New Orleans

City Sightseeing New Orleans provides Hop-On Hop-Off tours on Double-Decker, Open-Top buses. Our professionally conducted, entertaining sightseeing tours are the Best Way for visitors to see and enjoy New Orleans convenient, historically accurate, and Fun! Bus Operators combine refined driving abilities, energetic personalities and genuine love for New Orleans to provide SAFE reliable transportation for sightseeing customers, setting the stage for great customer experiences every day.
We offer Professional Bus Drivers a steady and reliable work schedule (daytime hours on local routes) and a great compensation package (hourly earnings + gratuities + bonuses).

We are looking for smart, fun and spirited Bus Operators have to be outgoing and charismatic, and must Love everything about New Orleans!