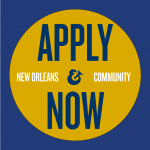 A Commander's Palace Market
The General Manager is responsible for overseeing the team culture, daily operations, and financial success of the restaurant and retail store.
Duties/Responsibilities:
Hire, train, supervise, and assist employees in guest service, store maintenance, product knowledge, and product placement.
Interviewing/Recruiting new employees and appraising staff performance.
Implement cross-training of employees when possible, to maintain productivity at all times.
Focus on exemplary guest service and recovering dissatisfied guests. Proactively seek ways to provide better service and promote the store and product line.
Maintain safety, cleanliness, sanitation, and food and beverage quality standards.
Provide effective coaching and counseling to the staff.
Ensure staff complies with company policies and store procedures.
Coordinating daily front and back-of-the-house operations.
Develop and maintain staff schedules that are focused on spikes in business levels throughout the day, holiday sales, and other cycles that may impact business levels.
Ensure employee hours are being tracked accurately and reported to payroll timely.
Order and control all operating supplies, food, beverage, and retail products.
Implement inventory plans for on-site and off-site products, maintain proper inventory levels, ensure stocking of shelves and backup inventory is being handled with care and accuracy, implement purchasing plans, and maintain contact with suppliers to ensure maximum efficiency in meeting sales goals.
Contribute to revenue growth and manage all controllable costs. Identify ways to eliminate waste with a view toward maintaining profitability.
Operational understanding of income statements.
Demonstrate a high level of knowledge regarding all food, beverage, and retail items.
Demonstrate a high level of familiarity with and the ability to perform all front and back of the house positions.
Proficient in POS, IT systems, online ordering dashboards, MS Office, Outlook.
Ensure proper cash handling and end of day cash outs are correctly completed.
All opening and closing procedures.
Completes all other projects/tasks as assigned.
Specifications:
Education: High school diploma or equivalent.
Experience: Two years of experience in retail management. Additional experience in the management of a café or fast-casual restaurant is preferred.
Commander's Palace can offer you:
Free mental health resources 
Career Pathways for growth within our company
Aqua Blue U Training Classes (internal training & development program)
Health Benefits (Medical, Dental, Vision, and Employee Assistance Programs)
401K plan with a company match so you can start saving for retirement
Gym Membership Discounts at Ochsner Fitness Centers
Paid Vacation Time
Paid Sick Time
Employee Meals
Employee Discount