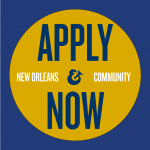 Website Crowne Plaza New Orleans French Quarter

About Us
Where Canal Street meets Bourbon Street, the newly renovated Astor Crowne Plaza New Orleans provides luxury accommodations amid the beating heart of the legendary French Quarter. Discover a rich diversity of elegant comforts and conveniences, including free Wi-Fi, flat screen HD TVs, a sparkling outdoor seasonal swimming pool, an acclaimed on-site restaurant and state-of-the-art fitness facility. Just outside, you'll enjoy a whirlwind of enchanting festivals, theater, music, cultural exhibits and culinary delights. At the Astor Crowne Plaza, associates are family not just employees. We offer complimentary uniforms, meals and 24/7 discounted downtown parking. Apply now so we can learn more about you!
Don't meet every single requirement of this job? Studies have shown that women and people of color are less likely to apply to jobs unless they meet every single qualification. At HEI we are dedicated to building a diverse and inclusive workplace, so if you're excited about this role but your experience doesn't align perfectly with every qualification in the job description, we encourage you to still send in your information. You may be the perfect candidate for this or for other roles within our organization!
We value U.S. military experience and invite all qualified military candidates to apply.
Overview
Responsible for total room, banquet, catering, and room rental revenue, yield strategies, implementation and accountable to a market performance and meeting budget, forecast, and optimal business mix targets. Strategies to include market mix, pricing, status, and direct sales. The development and solicitation of business from all markets to ensure the necessary advance bookings needed for a successful and profitable operation for the hotel. 
Responsibilities
Direct the solicitation efforts of the sales staff through effective oral and written communication while overseeing rate, date and space commitments for group room sales within the hotel. 
Recruit, Interview, hire, train, recommend performance evaluations, resolve problems, provide open communication and recommend discipline and/or termination when appropriate. 
Ensure training programs are conducted regularly and HEI standards of performance are met. Give guidance and counsel staff toward improvement.
Compile and/or direct the preparation of reports pertaining to the operation of the Sales Department to include, but not limited to the annual and monthly forecast, lead management system, group booking pace report, star reports and sales meeting minutes.
Coordinate ongoing research of the travel industry to detect market trends and related information for development of new marketing strategies. Make reasonable recommendations to improve potential from various markets.
Develop and conduct persuasive verbal sales presentations to prospective clients. 
Initiate preparation of computerized annual business plan and execute plans as outlined, critically examining and adjusting as deemed necessary by current market conditions.
Organize and/or attend scheduled sales department, executive committee, and related meetings.
Knowledge of travel industry, current market trends and economic factors.
Ability to access, understand and accurately input information using a moderately complex computer system.
Direct and manage all group, transient, and catering/banquet sales activities to maximize revenue for the hotel.
Prepare, implement and compile data for the strategic sales plan, monthly reports, annual goals, sales budget, forecasts and other reports as directed/required.
Develop rates, group sales and catering deployment strategies through review of competitive data, demand analysis and mix management.
Professionally represent the hotel in community and industry organizations and events.
Oversee departmental matters as they relate to federal, state, and local employment and civil rights laws.
Comply with attendance rules and be available to work on a regular basis. 
Perform any other job related duties as assigned.
Qualifications
Bachelor's degree preferred.
5+ years of sales leadership in similar sized operation preferred.
Proficiency in Microsoft Word, Excel, and Delphi. 
Knowledge of computer accounting programs, math skills, as well as budgetary analysis capabilities required.
Extensive knowledge of sales skills, revenue management, recruitment, supervision, training, and motivation of managers.
Ability to effectively listen, communicate and perform diplomacy with internal and external customers and staff in all situations.
Ability to stand and move throughout the hotel property and continuously perform essential job functions with or without reasonable accommodation.
Effective verbal and written communication skills. Ability to adapt communication style to suit different audiences, such as effectively communicating with supervisors, coworkers, public etc.
Benefits
HEI Hotels and Resorts is committed to providing a comprehensive benefit program that offers you choices for your physical, mental and financial wellness, creating value in your most important investment – you!
For your physical and mental wellness we offer competitive Medical and Dental programs through Anthem Blue Cross Blue Shield as well as Vision insurance programs ​through EyeMed. ​Our Vacation, Sick and Holiday programs are available for you to rejuvenate with time off. For your financial wellness, HEI provides a wide array of coverage, including Supplemental, Spousal and Child Life insurance as well as Short and Long-Term Disability plans. Our 401(k) Savings Plan with matching funds, and discounts through our 'YouDecide' and Hotel Room Discount programs provide additional incentives for choosing HEI as the employer of your future. Specific details and eligibility of these programs vary by location and employment status. 
Work today, get paid today! We proudly partner with DailyPay, a voluntary benefit that allows our associates access to their earnings when they want them.
HEI Hotels and Resorts is an equal opportunity employer. We evaluate qualified applicants without regard to race, color, religion, sex, sexual orientation, gender identity, national origin, disability, veteran status, and other legally protected characteristics.