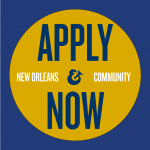 Website Empire State Delicatessen
A Taste of the Big Apple in the Big Easy
A New York-Style Deli of 19 years in the heart of downtown New Orlean's Central Business District (C.B.D.), and French Quarter is seeking a Line cook / cashier capable of memorizing over 50 menu items to ring at the register and cook in a fast-moving 75-customer/hour daily lunch rush and catering service. Line cook will support the Line and Grill Masters as needed when not at the register. 
MUST HAVE:
5-10 YEARS minimum kitchen experience
1-2 Years Cashiering Experience 
ALL Kitchen skills: readiness to clean/sanitize all equipment &cooking utensils/pot ware
Reliable transportation: understanding of French Quarter, Central Business District (C.B.D.) traffic and parking 
Punctual and plans ahead
Catering experience
Prep/Restock/Clean Up and Deep Clean with team quarterly
Work in a Fast-Paced environment and a Team player
MUST WORK during MARDI GRAS parade schedules and plan ahead to arrive for shift
Culinary education and certifications a Plus
ATC certification a Plus
Pay Rates:
Paid training $18.00  30days 
 Retention Rate Ranges once training is complete
Candidate Mindfulness:
Candidate is required to arrive 10 – 15mins prior to shift start for daily briefing
Applicants who do not meet these requirements will not be considered.