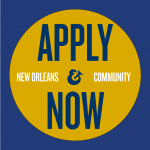 Website Hotel Management of New Orleans
We are looking for a reliable and professional person to join our hospitality team in providing excellent customer service to our hotel guests. 
Front Desk Agent must be able to perform each essential duty as listed below satisfactorily.
Essential Duties and Responsibilities (include but are not limited to)
Guest Services
Management of all aspects of guest service, including registration, information , accounting, parking, directions, and sightseeing

Monitoring of bell and valet staff activities for proper guest support and service

Management of guest requests and / or complaints with satisfactory response to resolution
Hotel Operations
Verification of housekeeping activity to prepare rooms for occupancy

Working knowledge of hotel rates and promotional and/or package programs

Accurate processing of transactions pertaining to cash receipts, credits, and charges to guest accounts

Proper routing of mail, package, telephone calls and messages

Daily logging of Front Desk Journal, Incident/Accident Reports, and any other required documentation pertaining to hotel operations

Documentation and reporting of maintenance deficiencies

Accurate processing of reservation requests and modifications
Safety and Security
Working knowledge of hotel life safety systems and emergency procedures

Secure management of room key inventory

Secure management of guest information

Secure management of guest safe deposit box system

Accurate maintenance of shared cash bank
Other Responsibilities
Working familiarity with hotel layout; corridors, exits, guest rooms, and storage rooms

Working familiarity with hotel room types and categories

Management of hotel lobby and front desk areas in a neat orderly fashion at all times

Completion of any request made by General Manager or Supervisor
Reasonable accommodations relating to duties or work environment may be made to enable individuals with disabilities to perform the essential functions.