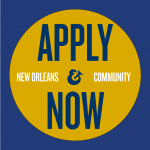 Coalition to Restore Coastal Louisiana
Oyster Shell Recycling Program Volunteer Coordinator
Coalition to Restore Coastal Louisiana is hiring for an AmeriCorps position in their Oyster Shell Recycling Program. This is a great opportunity to merge an interest in sustainability, restoration, ecology, data management and outreach. 
CRCL is a dynamic, exciting workplace that offers a unique opportunity to work directly with advocates, communities, and environmental professionals to protect Louisiana's coast. The Oyster Shell Recycling Program offers a pick-up service for restaurants in the New Orleans area to get involved in supporting sustainable seafood and coastal restoration. They host volunteer events to prepare the shell, then host events where volunteers can help construct living shorelines with the recycled shells. Join a close-knit team working together to return oyster shells to the water by working with restaurants, volunteers and native tribes to build oyster reefs. This fun, dynamic role involves liaising with New Orleans restaurants (and eating at them!), getting out into the Louisiana wetlands, science and more. This position provides the opportunity to attend conferences, networking events at the LA state capitol, overnight field trips, boat trips to plant trees in coastal forests, and more. 
This position is an 11-month service term through AmeriCorps/Serve Louisiana, a program that offers entry into the non-profit field with many opportunities for networking and professional development.
For more information on the full position description and instructions on how to apply, please visit https://www.crcl.org/employment-opportunities/.