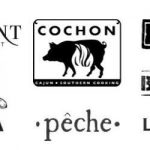 Link Restaurant Group was founded by James Beard Award winning executive Chef Donald Link and Stephen Stryjewski, with the goal to support the continuous growth of their family of restaurants in New Orleans. Currently that includes Herbsaint, Cochon, Cochon Butcher, Peche Seafood Grill, Gianna, La Boulangerie and Calcasieu Private Dining. Growing up in south Louisiana taught Chef Link about the importance of traditions and the regions unique flavors, which helped define their guiding philosophy to produce honest, simple food.
We offer competitive wages, health insurance (medical, dental and vision), life insurance, 401k with company match, paid sick days, in-house dining discounts, career progression and professional development.
Please visit our careers page to see our current open positions and learn more about our team!