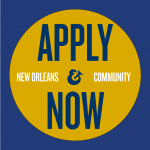 RECONCILE NEW ORLEANS
EXECUTIVE DIRECTOR JOB OPPORTUNITY
ORGANIZATIONAL BACKGROUND:
Reconcile New Orleans (RNO) supports young adults, ages 16-24, as they transform their lives by encouraging their personal growth, providing workforce development and training, and equipping them with tools to achieve their potential. Founded in 1996 by Rev. Harry Tompson, S.J., RNO has graduated more than 2,000 young adults through its Café learning laboratory and Workforce Development Program. Graduates leave with confidence, connection to a community that believes in them, and with the tools and resources to empower them to navigate their personal and professional ambitions beginning with a meaningful employment experience. Our three main priorities for program interns are to support them in the development of their social-emotional skills; that they feel financially stable as a result of their participation; and that they connect to an educational or employment opportunity suited to their knowledge, skills, and interests. Our vision is a New Orleans where all young people are embraced and empowered to pursue their potential.
In 2021, RNO launched an ambitious three-year strategic plan to bring its programming to the next level of impact for Opportunity Youth (OY) in the metro-New Orleans area. Our plan is based on 20 years' experience in creating positive outcomes for Opportunity Youth. With the decimation of the hospitality industry during the pandemic, RNO has recognized the opportunities to explore and develop alternative employment pathways within its Intern model while maintaining an anchor as a training partner in the hospitality industry. These new career exploration pathways include connection to job training opportunities in high-wage, high-demand industry, upward career advancement, and connection to Community College including an on-site bridge course. The plan also calls for advancing data-driven decisions, an enhanced youth-centered delivery model, as well as an innovative Externship program. RNO's rigorous data tracking is not only informing and enhancing internal operations but also informing collaborations with local and statewide partner organizations working to improve conditions for OY, including the New Orleans Children & Youth Planning Board's Youth Master Plan, the Aspen Functional Zero New Orleans Initiative, and the statewide Opportunity Youth Workforce Advocacy Coalition.
RNO has an annual budget of $3.7 Million and 26 FTEs.  For additional information on our organization, please visit our website at www.cafereconcile.org. 
POSITION SUMMARY
Reporting to the Board of Directors, the Executive Director is responsible for executing the mission and aspirational objectives of the organization, building upon the strength of the current team to further its vision. This leader is a professional collaborator who can effectively partner with the Board, leadership, and staff to drive high levels of people performance, engagement, and personal accountability. The Executive Director will represent the organization to and collaborate with a wide range of stakeholders, as well as national and local parties, non-profit groups, hospitality groups, civic concerns, and education and community advocates ensuring that RNO is a high performing and well-recognized resource in the workforce development industry. The Executive Director has overall responsibility for the day-to-day activities of RNO including all programmatic objectives, workforce development training, fiscal austerity, fundraising and development, marketing, branding, Café Reconcile food and beverage operations, and catering functions. 
The Executive Director will build upon the positive momentum of the organization, seeing the implementation of its current strategic plan through, continuing to prioritize fiscal responsibility, and supporting the implementation of the leadership, staff, and Board's ongoing initiatives.
Direct Reports: Chief Program Officer, Chief Development Officer, Chief Financial Officer, and Chief Culinary Officer. 
PRIMARY RESPONSIBILITIES
In leading RNO's social enterprises, Reconcile New Orleans, Inc. dba Café Reconcile, the Executive Director will be responsible for oversight and implementation of the following areas:
ORGANIZATIONAL PLANNING & STRATEGY:
Lead implementation of RNO's 2020-2023 strategic plan, and collaborate with the Board and staff leadership in the development of organizational strategy and future strategic plans. 
Collaborate with staff to develop programmatic, organizational, and financial plans.
Manage implementation and evaluation of organizational strategy and programmatic goals, utilizing existing tools and building upon historical efforts. 
Regularly engage with a broad network of business, public, philanthropic, and community stakeholders to further the RNO brand and organizational capabilities, and ensure programmatic alignment with the needs of the New Orleans community.
Provide oversight for official records and documents, and ensure compliance with federal, state, and local regulations.
Maintain a working knowledge of significant developments and trends in the field.
CULTURE AND PERSONNEL MANAGEMENT
Direct and oversee Chief Program Officer, Chief Development Officer, Chief Financial Officer,  and Chief Culinary Officer.
Motivate and provide executive leadership to all team members, including cultivating and providing opportunities for individual and team growth within the organization. 
Oversee the recruitment, employment, and release of personnel, including paid staff, interns, and volunteers. Ensure standards of human resources and personnel management are maintained.
Maintain an effective management team, with appropriate provision for succession.
Maintain a climate that is anti-racist, and attracts, motivates, and retains a diverse, high quality staff.
FUNDS & GRANTS DEVELOPMENT:
Work closely with the Chief Development Officer to plan and implement a detailed strategy for fundraising, marketing, and public relations.
Oversee the organization's efforts to cultivate relationships with external constituencies (government, corporate, foundation, and individual) to attract philanthropic support.
Participate in solicitation of major prospective donors.
Play a significant role in stewarding relationships with funders and other constituents who help to advance RNO's mission.
Work with the Chief Development Officer to establish achievable annual fundraising goals.
BUDGET & FINANCE:
Develop and maintain sound financial practices across the organization.
Work with the Chief Financial Officer and relevant Board committee(s) to prepare RNO's annual budget; see that the organization operates within budget guidelines.
Ensure that adequate funds are available to permit the organization to carry out its work.
COMMUNICATIONS:
Ensure the activities of the organization, its programs, and goals are communicated and understood internally and externally. 
Serve as the primary public face for the organization among all stakeholders.
Collaborate with the Board and ensure it is kept fully informed on the circumstances of the organization and equipped to make necessary decisions.
CAFÉ AND CATERING OPERATIONS:
Collaborate with the Café Reconcile Chief Culinary Officer / Executive Chef and Hospitality Development Manager to define, implement, direct strategy, drive revenue growth and ensure excellence in the execution of the Café and catering operations. 
Maintain P&L responsibility and provide leadership in a cross functional environment to ensure that all employees who are involved in Café operations and catering have the necessary training, guidance, and support to ensure excellent execution of the restaurant and catering brand and a high-quality training environment for Interns.
DESIRED SKILLS AND COMPETENCIES
Experience
Minimum 7 year's experience in a leadership role, preferably in workforce development, Opportunity Youth, or hospitality. 
Familiarity with diverse organizational functions such as programs, marketing, operations, fundraising, performance management, food service operations, etc.
Proven ability to manage, motivate, and develop professional staff with humility and a collaborative approach.
Skills
Commitment to the mission and vision of Reconcile New Orleans.
Ability to connect with and lead team members from diverse professional backgrounds.
Ability to develop organizational strategy and execute and operationalize organizational priorities.
Sophisticated understanding of DEI principles and the ability to operationalize DEI priorities within an organization.
Strong written and verbal communication skills, including ability to establish a culture of open and honest communication.
Strong understanding of the New Orleans community, and the strengths and challenges that Black youth experience in the city.
APPLICATION INSTRUCTIONS:
All applicants must submit their resumes and cover letters via the following form:
ONLY applications submitted via the above form will be considered. 
Salary: $115,000 – $125,000
Deadline to apply: Tuesday, January 3rd, 2023
Qualified candidates will be contacted in January for first round interviews. RNO has retained trepwise to lead this Executive Director search. For more information, you may reach out to trepwise at hiring@trepwise.com.
RNO is committed to providing equal employment opportunity to qualified persons without regard to race, sex, color, religion, national origin, citizenship, marital status, sexual orientation, age, disability, military, veteran status or any other protected status or classification under federal, state or local law.