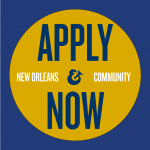 Position: ACADEMIC INTERVENTION COORDINATOR
Organization: Son of a Saint
Position Type: Full-Time
Son of a Saint is searching for an energetic, detailed, proactive, and solution-oriented professional to join the organization's growing team.
About Us:
Son of a Saint exists to enhance the lives of fatherless boys through mentorship, emotional support, development of life skills, exposure to constructive experiences and formation of positive, lasting peer-to-peer relationships. Son of a Saint equips boys with the tools they need to become productive men. We give them hope, vision, and opportunity through secure and consistent mentorship.
Primary Role: 
This position will serve mentees primarily in grades 3-8.  This position will be responsible for the oversight and implementation of interventions and educational programming to address mentee's individualized academic needs by collecting and interpreting mentee's current school-based supports, identifying and coordinating mentee's intervention needs, tracking individual progress, and facilitating targeted follow-up. This position reports directly to the Education and Career Manager and is a member of the Programs Staff.
Specific responsibilities include:

Oversight and Implementation of interventions and Educational Programming (85%)
Interpret and respond to a mentee's current school-based supports such as: Individual Education Plans (IEPs), Individual Accommodation Plans/Section 504, English Language Learner Plans, etc.  Determine the current individual needs of the mentees and identify appropriate interventions.
Monitor academic performance and provide responsive services to mentees on academic issues.
Consult and collaborate with school staff, guardians, programming team on mentees progress to gain and/or provide a holistic picture of mentee's academic standing, where relevant.
Implement a trackable, data-driven system for progress monitoring that is individualized to the mentee and is able to be shared with relevant stakeholders. 
Coordinate and implement individualized intervention programming for mentees during afternoon and evening hours. 
Provide goal-oriented guidance to mentees around their academic progress and encourage and ensure active participation in intervention programming.
Document and report on progress made and results obtained with mentees to relevant stakeholders.
Use best/evidence-based practices to provide resources and guidance to volunteer tutors.
Collaborate with Success, case management, and volunteer team to coordinate tutoring based upon identified needs.
Organization-Wide Responsibilities (10%)
Cross functional special projects
Other duties as assigned (5%)
Reports To: EDUCATION AND CAREER MANAGER
Skills and Qualifications:
3+ years of experience working in special education in a classroom or out-of-school setting, preferably in New Orleans
Must have the ability to effectively communicate with school faculty, Son of a Saint staff, mentees, guardians, and school administrators
Driver's license, auto insurance, and reliable transportation
Experience working with middle school and/or high school students, incorporating cross-cultural competency to support and challenge them appropriately
Bachelor's degree is required
Commitment to Son of a Saint's mission and vision.
Physical Requirements:
The physical demands described here are representative of those that must be met by an employee to successfully perform the essential functions of this job. Reasonable accommodations may be made to enable individuals with disabilities to perform the essential functions:
Candidate must be able to lift up to 50 pounds.
Ability to write by hand and use the keyboard to perform general functions.
Ability to communicate by speech and hearing continuously.
Visual acuity (close, distant, peripheral vision, and the ability to adjust focus and view accurate color perception) needed for detail work, and computer use.
Ability to sit for extended periods of time.
Why to Apply:
Competitive pay
Great benefits
Mission-driven work
PTO and paid holidays 
All applicants should include a cover letter in addition to their resume.