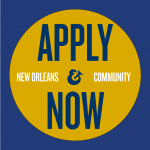 Position: Senior Recreation Coordinator
Organization: Son of a Saint
Position Type: Full-Time
Son of a Saint is searching for an energetic, detailed, proactive, and solution-oriented professional to join the organization's growing team.
About Us:
Son of a Saint exists to enhance the lives of fatherless boys through mentorship, emotional support, development of life skills, exposure to constructive experiences and formation of positive, lasting peer-to-peer relationships. Son of a Saint equips boys with the tools they need to become productive men. We give them hope, vision, and opportunity through secure and consistent mentorship.
Primary Role: 
This position will be divided into two components: (1) Program Planning & Implementation (2) Activities Staff Leadership & Development. This position is responsible for the successful development and implementation of engaging, mission-centric programming activities and mentorship in line with Son of a Saint's mission and vision. This position reports directly to the Director of Programs and is a member of the Programs Staff.
Specific responsibilities include:
Program Planning & Implementation (55%):
Serve as a liaison for volunteers and mentors for programming activities, events (i.e., recreational and socialization experiences), and initiatives with the support of the volunteer coordinator 
Cultivate new and existing relationships with the goal of ensuring sufficient resources and access to quality recreational and social programming
Initiate and plan the monthly programs calendar in conjunction with the program director 
Manage programs and ensure the inclusion of various virtual, recreational, social,  and sports activities while considering needs, abilities, and age. 
Collaborate with program staff to develop and execute activities for individuals, small groups, and large groups.
Create new recreational and social initiatives taking into consideration the logic model, program outcomes, and mentee interest.
Staff Leadership & Management (30%)
Work with recreational and social activities staff to develop objective performance measurements across activities to ensure consistent, high-quality evaluation and goal setting for all employees
Promote and foster an environment in which proactive thinking and creativity are encouraged 
Serve as a resource for recreational and social activities team members and support their work by managing resources, opportunities, time, and information.
Organization-Wide Responsibilities (10%):
Support for programming and organization-wide initiatives by actively engaging in the following opportunities:
Fundraising and development initiatives
Staff leadership development and team building
Cross-functional special projects
Other duties as assigned (5%)
Reports To: Director of Programs
Skills and Qualifications:
Experience working with diverse populations.
Experience working with recreational programs and youth services. 
Ability to work collaboratively with school staff, Son of a Saint staff, guardians, agency representatives and various members and groups from the community 
Experience working with middle school and/or high school students, incorporating cross-cultural competency to support and challenge them appropriately
Teaching experience in a classroom or out-of-school setting
Knowledge of New Orleans schools and school systems preferred
Strong written and interpersonal communication skills
Excellent organizational skills and is able to work independently with minimal supervision
Ability to identify student issues and problems and initiate actions to solve these problems
Ability to research and quickly develop knowledge of employer recruiting strategies, job market trends, occupational, career, and personal growth. 
Physical Requirements:
The physical demands described here are representative of those that must be met by an employee to successfully perform the essential functions of this job. Reasonable accommodations may be made to enable individuals with disabilities to perform the essential functions.
Candidate must be able to lift up to 50 pounds.
Ability to write by hand and use keyboard to perform general functions.
Ability to communicate by speech and hearing continuously.
Visual acuity (close, distant, peripheral vision and the ability to adjust focus and view accurate color perception) needed for detail work, and computer use.
Ability to sit for extended periods of time. 
Education/Experience:
3-5 years experience working in education, job training, youth programming, or a related field
Experience in the nonprofit sector is preferred
Must possess experience in a collegiate environment or understanding of the academic culture and must have the ability to effectively interact with school faculty, Son of a Saint staff, boys, guardians, and school administrators. 
Bachelor's degree in Kinesiology, Human Development, Psychology, or a related field is preferred.
Commitment to Son of a Saint's mission and vision.
Why to Apply:
Competitive pay
Great benefits
Mission-driven work
PTO and paid holidays 
All applicants should include a cover letter in addition to their resume.