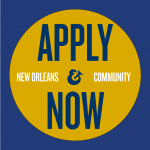 Website The National World War II Museum
The National WWII Museum's Marketing and Communications team is seeking an Advertising Manager to oversee all components of the Museum's digital and traditional paid media efforts. The ideal candidate is a dynamic and strategic thinker who is curious, detail-oriented, and enjoys working with colleagues and agency partners to develop and execute a comprehensive paid advertising program to maximize the Museum's visitation, brand awareness, support, and educational reach.
Reporting to the Associate Vice President of Marketing, the Advertising Manager is responsible for ensuring that all paid media (print, outdoor, digital, onsite, social, etc.) is placed on time and executed on budget. This position will assist in the media planning and buying process, help negotiate contracts with media vendors, ensure that creative assets are delivered on time to media outlets, and work with the Marketing Analyst to utilize analytics and reporting in data-driven campaign optimization decisions.
Major Responsibilities:
Proactively work with the Associate VP of Marketing and the Museum's agency partner(s) to develop and implement a comprehensive paid media plan for the Museum
Organize and manage the Museum's paid media strategy, which will include careful management of paid media budgets across multiple channels and campaigns, knowledge of both the New Orleans and national media landscape, the ability to find new media opportunities, the ability to make competent and well-informed recommendations on paid media mix, and negotiation of media buys.
Serve as the main point of contact with our media vendors to negotiate rates and traffic placements
Serve as the liaison between the Museum's digital agency/other marketing partners and Museum colleagues to ensure collaboration and communication about advertising goals, strategies, budgets, performance metrics, etc.
Utilize the Marketing Analyst's reports and other analytic tools to provide actionable insights for all campaigns and tell a compelling performance story.
Carefully and diligently manage all paid media budgets.
Qualifications:
Bachelor's degree in advertising, marketing, or related field required with a minimum of five years' experience
Demonstrated experience with multi-channel media planning, placement, and budgeting
Experience with analytics including Google Analytics or other reporting platforms
Excellent writing, editorial, and proofing skills with keen attention to detail
Proactive work style with ability to work on multiple projects and to consistently meet deadlines
Creativity, organizational skills, and good judgment
Excellent, direct, and persuasive communication skills—both verbal and written
Willingness to work a flexible schedule, as needed, that may extend outside of the typical 40-hour workweek, including weekends and evenings, to complete tasks and meet deadlines during high-demand periods.
In addition to offering competitive wages, the Museum's benefits package includes:
Medical insurance – 2 plan options; Museum pays 75% of premium
Dental and vision insurance
Flexible spending account
401(k) – Museum matches 50% of employee contribution up to 6%; employer contribution full vested after 3 years of employment
Life insurance and AD&D – $15,000 policy employer paid; additional life and AD&D available
Long term disability insurance
Paid vacation and sick leave, 10 paid holidays per year
Free parking
Tuition assistance and professional development
Employee assistance program
The National WWII Museum is an equal opportunity employer and seeks diversity in its workforce.  We are dedicated to a policy of non-discrimination in employment on any basis including race, color, religion, age, sex, national origin, disability status, genetics, protected veteran status, sexual orientation, gender identity or expression, or any other characteristic protected by federal, state, or local laws.  Consistent with the Americans with Disabilities Act, applicants may request accommodations needed to participate in the application process.
Interested candidates should apply online at www.nationalww2museum.org/employment or mail resumes to 945 Magazine St., New Orleans, LA 70130.