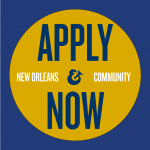 Website The National World War II Museum
The National WWII Museum is currently seeking an Assistant Entertainment Manager.  This position is part of the Entertainment Department which produces main stage shows in BB's Stage Door Canteen, other Museum venues, and off-site locations across the United States.  Reporting to the Director of Entertainment, the Assistant Manager is responsible for supporting the development and management of the Victory Belles, the Victory Bands, and live productions in BB's Stage Door Canteen as well as other Museum venues, special events, and off-site venues.
Major Responsibilities:
Support the Director of Entertainment in producing and managing productions in BB's Stage Door Canteen; this includes stage management, acquisition of props, costuming, set/stage preparation, rehearsal calendar, performer agreements, etc.
Support the Director in managing the Victory Belles and Victory Bands.
Handle social media posts and monitor Entertainment Facebook and Instagram pages.
Coordinate travel arrangements and accommodations for all contracted performers, ensure proper execution of contract riders, and requisition payments for performers.
Provide pre-show announcements for Stage Door shows and assist in seating and greeting guests.
Coordinate with the Education Department to plan and carry out the Summer Theater Camp program; coordinate contestants and create script for the Stage Door Idol program; coordinate activities for the Teddy Bear Tea program and similar programs.
Assist in the hiring process of Entertainment staff.
Prepare payroll for Entertainment staff; prepare and submit for payment all invoices, travel expense reports, check requests, etc.
Coordinate with the Marketing Department to promote the Museum's Entertainment productions including print, social media, mass media, e-comms, etc.
Qualifications:
Degree in Theater Arts (preferred) or 2 years of relevant experience.
Knowledge of, and experience with, the administrative requirements, as well as the creation and production processes, to produce live entertainment.
Ability to work effectively with outside vendors, clients, and performers.
Ability to research problems quickly and resolve issues with minimal direct supervision.
Ability to work on multiple projects simultaneously, frequently with short immediate deadlines.
Strong customer service, time management, and conflict resolution skills.
As required, the ability to work a flexible schedule that will extend outside of the typical workweek, including weekends and evenings, to complete tasks and meet deadlines.
Willingness to work overtime during special events or heavy visitation periods to meet deadlines.
In addition to offering competitive wages, the Museum's benefits package includes:
Medical insurance – 2 plan options; Museum pays 75% of premium
Dental and vision insurance
Flexible spending account
401(k) – Museum matches 50% of employee contribution up to 6%; employer contribution full vested after 3 years of employment
Life insurance and AD&D – $15,000 policy employer paid; additional life and AD&D available
Long term disability insurance
Paid vacation and sick leave, 10 paid holidays per year
Free parking
Tuition assistance and professional development
Employee assistance program
 The National WWII Museum is an equal opportunity employer and seeks diversity in its workforce.  We are dedicated to a policy of non-discrimination in employment on any basis including race, color, religion, age, sex, national origin, disability status, genetics, protected veteran status, sexual orientation, gender identity or expression, or any other characteristic protected by federal, state, or local laws.  Consistent with the Americans with Disabilities Act, applicants may request accommodations needed to participate in the application process.
Interested candidates should apply online at www.nationalww2museum.org/employment or mail resumes to 945 Magazine St., New Orleans, LA 70130.