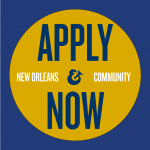 Website The National World War II Museum
The National WWII Museum is currently seeking a Copywriting and Editing Manager.  This position serves as the copywriter and proofreader for the Museum's Marketing and Communications team, working under the direction of the Assistant Director of Publications to ensure that Museum messaging is engaging, effective, and consistent across all channels.  This position will develop creative content ranging from short, punchy display copy and promotional pieces to in-depth profiles and narratives.  The Copywriting and Editing Manager will be a key editorial contributor to the Museum's email communications, website content, digital and traditional ads, social media, newsletters, annual reports, brochures, and other print and digital communications.
Responsibilities:
Write and/or edit institutional, web, email, ad, and publications copy that engages diverse audiences across a full range of communication channels.
Help develop key strategic messages and descriptive copy for Museum venues, exhibitions, programming, events, and initiatives.
Edit copy from across the Museum to ensure consistency with the Museum's style guide and institutional messaging.
Edit all event entries before they are posted to the Museum's online calendar.  Ensure that key Museum events are posted on other online calendars maintained by city/state travel organizations and local media.
Assist with developing social media content and monitoring comments.
Qualifications:
Strong writing, editing, and proofreading skills with keen attention to detail and accuracy.
Minimum of two years' experience in work environments with writing, editing, or related media responsibilities.
Bachelor's degree in communications, journalism, English, or related field that provides a foundation for superior writing, research, and strategic communications.
Familiarity with The Chicago Manual of Style and ability to quickly learn institution's preferred writing/editing style.
Ability to create high-quality communication for various audiences.
Proactive work style with ability to develop and manage multiple assignments, consistently meet deadlines, and adapt to quickly changing environments.
Good judgment, discretion, and ability to maintain a high level of professionalism and confidentiality.
Strong interpersonal skills and ability to work well with multiple constituencies.
In addition to offering competitive wages, the Museum's benefits package includes:
Medical insurance – 2 plan options; Museum pays 75% of premium
Dental and vision insurance
Flexible spending account
401(k) – Museum matches 50% of employee contribution up to 6%; employer contribution full vested after 3 years of employment
Life insurance and AD&D – $15,000 policy employer paid; additional life and AD&D available
Long term disability insurance
Paid vacation and sick leave, 10 paid holidays per year
Free parking
Tuition assistance and professional development
Employee assistance program
The National WWII Museum is an equal opportunity employer and seeks diversity in its workforce.  We are dedicated to a policy of non-discrimination in employment on any basis including race, color, religion, age, sex, national origin, disability status, genetics, protected veteran status, sexual orientation, gender identity or expression, or any other characteristic protected by federal, state, or local laws.  Consistent with the Americans with Disabilities Act, applicants may request accommodations needed to participate in the application process.
Interested candidates should apply online at www.nationalww2museum.org/employment or mail resumes to 945 Magazine St., New Orleans, LA 70130.