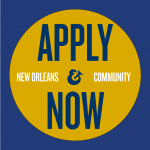 Website The National World War II Museum
The National WWII Museum currently has an opportunity for Custodian Event Set Up Personnel.  This position reports to the Custodial Supervisor/Facilities Management Team and is responsible for custodial and event set up tasks.  Custodial tasks include general cleaning such as cleaning restrooms, vacuuming, dusting, mopping, cleaning glass as well as special floor care duties. The candidate will also be required to set up and break down special events.  Setting up and breaking down events includes the moving and the setting up of folding tables and chairs.
The starting wage for this position is $16 / hour.
The ideal candidate will be physically able to perform manual work and be familiar with cleaning procedures and custodial equipment.  In addition, the ability to work a flexible schedule is a must.
In addition to offering competitive wages, the Museum's benefits package includes:
Medical insurance – 2 plan options; Museum pays 75% of premium
Dental and vision insurance
Flexible spending account
401(k) – Museum matches 50% of employee contribution up to 6%; employer contribution full vested after 3 years of employment
Life insurance and AD&D – $15,000 policy employer paid; additional life and AD&D available
Long term disability insurance
Paid vacation and sick leave, 10 paid holidays per year
Free parking
Tuition assistance and professional development
Employee assistance program
The National WWII Museum is an equal opportunity employer and seeks diversity in its workforce.  We are dedicated to a policy of non-discrimination in employment on any basis including race, color, religion, age, sex, national origin, disability status, genetics, protected veteran status, sexual orientation, gender identity or expression, or any other characteristic protected by federal, state, or local laws.  Consistent with the Americans with Disabilities Act, applicants may request accommodations needed to participate in the application process.
Interested candidates should apply online at www.nationalww2museum.org/employment or mail resumes to 945 Magazine St., New Orleans, LA 70130