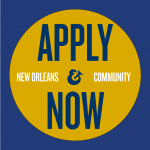 Website The National World War II Museum
The National WWII Museum is currently seeking a Facilities Maintenance Technician.  Reporting to the Chief Engineer, this position performs a variety of work in the general maintenance and repair of the Museum's buildings, facilities, and equipment.  The technician works with other Facilities staff to ensure that the Museum's spaces are clean and safe for visitors, staff, and volunteers.
Responsibilities:
Performs a variety of maintenance work including carpentry, electrical, plumbing, glazier, masonry, and painting tasks.
Repairs and treats structures such as floors, sinks, walls, roofs, and carpets.
Performs minor repairs and adjustments of locks on doors, cabinets, desks, closets, hinges, etc.
Changes filters on heating, ventilation, and air conditioning units; reports mechanical malfunctions to appropriate party for action.
Moves and assists in moving furniture and equipment.
Exercises discretion in identifying projects requiring the services of a higher-skilled crafts person.
Assists in obtaining quotes and arranging for services of outside vendors as needed.
Activates and deactivates building alarms and responds to alarm calls during and after regular work hours.
Qualifications:
Basic knowledge of carpentry, plumbing, glass replacement, painting, masonry, groundskeeping, appliance repair, and electrical wiring.
Knowledge of standard practices and tools used in the maintenance and repair of building facilities; ability to safely and effectively use hand and power tools.
Clean driving record and valid driver's license; ability to operate a forklift.
Effective communication skills.
Ability to work a flexible schedule.
Ability to lift 50 lbs.
The starting wage is $17.25/hour and is commensurate with experience.
In addition to offering competitive wages, the Museum's benefits package includes:
Medical insurance – 2 plan options; Museum pays 75% of premium
Dental and vision insurance
Flexible spending account
401(k) – Museum matches 50% of employee contribution up to 6%; employer contribution full vested after 3 years of employment
Life insurance and AD&D – $15,000 policy employer paid; additional life and AD&D available
Long term disability insurance
Paid vacation and sick leave, 10 paid holidays per year
Free parking
Tuition assistance and professional development
Employee assistance program 
The National WWII Museum is an equal opportunity employer and seeks diversity in its workforce.  We are dedicated to a policy of non-discrimination in employment on any basis including race, color, religion, age, sex, national origin, disability status, genetics, protected veteran status, sexual orientation, gender identity or expression, or any other characteristic protected by federal, state, or local laws.  Consistent with the Americans with Disabilities Act, applicants may request accommodations needed to participate in the application process.
Interested candidates should apply online at www.nationalww2museum.org/employment or mail resumes to 945 Magazine St., New Orleans, LA 70130.