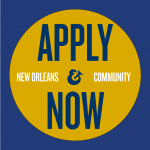 Website The National World War II Museum
This position is responsible for ensuring the safety and security of all guests, staff, and Museum properties in accordance with Museum policies and procedures.  The ideal candidate will have experience in law enforcement, security, or military service.  In addition, the ability to work a flexible schedule (which includes weekends and holidays) and perform the physical demands of the position is required.
Starting hourly rate $18.50/hour (Evening Shift Only)
The National WWII Museum offers a competitive wage and benefits package which includes medical, dental, vision and life insurance, long-term disability insurance, 401k and paid vacation and sick leave.
The National WWII Museum is an Equal Opportunity Employer and seeks diversity in its workforce.  We are dedicated to a policy of non-discrimination in employment on any basis including age, sex, race, religion, national origin, sexual orientation, or disability.  Consistent with the Americans with Disabilities Act, applicants may request accommodations needed to participate in the application process.
Interested candidates should apply online at www.nationalww2museum.org/employment or mail resumes to 945 Magazine St., New Orleans, LA 70130.