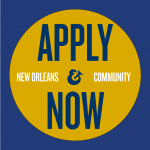 Website The National World War II Museum
The National WWII Museum is currently seeking a Student Programs Specialist.  Working within the Museum's Education and Access team and reporting to the Assistant Director of K-12 Programs, this position is responsible for the creation, implementation, and evaluation of humanities field trips and student programs throughout the Museum.  The Student Programs Specialist serves as the State Coordinator for Louisiana History Day as part of the National History Day program.  This position also travels abroad with students for the Museum's Normandy Academy program.  The Specialist works closely and collaboratively with all members of the K-12 Programs team and the wider Education and Access team to create programs, activities, and experiences that connect World War II to today.
Responsibilities:
Serves as the state coordinator for Louisiana History Day; plans and hosts the annual New Orleans regional Louisiana History Day contest and the state Louisiana History Day contest at the Museum each spring; coordinates with state-wide partners for regional qualifying contests; recruits new participants within the program; leads the Louisiana delegation of winning students to National History Day in College Park, MD, during the five-day event each June.
Works with National History Day headquarters staff to develop and participate in a variety of national educational opportunities and activities including (but not limited to) teacher workshops at the NHD national contest and e-mail communications to the NHD database of students and teachers, etc.
Leads the planning and delivery of the Museum's summer student program, including the weeklong Student Leadership Academy program and traveling abroad for the Normandy Academy program that takes high school and college students abroad to Normandy, France.
Develops and delivers onsite humanities-based fieldtrips for students in grades K-12.
Develops and executes other student programs as assigned.
Collaborates with the Teacher and Curriculum Specialist to create trainings for Louisiana teachers for on-site school programs that align with standards and program initiatives.
Assists the Museum's institutional advancement team to provide supporting documentation and data for fundraising proposals and reports.
Participates in assigned task forces, staff committees, projects, assignments, tasks, etc. as directed by the Assistant Director of K-12 Programs, the Director of Teaching and Learning, or the Associate Vice President of Education.
Qualifications:
Bachelor's degree required (Master's degree preferred) in history, arts administration, museum education, education, or related field.
Minimum of three years' experience working with students and teachers in a school, museum, or other educational setting.
Strong organizational skills with attention to details.
Demonstrated experience developing classroom curricula.
Effective written, verbal, and interpersonal communication skills as well as strong organizational skills.
Willingness and ability to travel nationally and internationally for student programs.
Willingness to work overtime during special events or heavy visitation periods or to meet deadlines.
In addition to offering competitive wages, the Museum's benefits package includes:
Medical insurance – 2 plan options; Museum pays 75% of premium
Dental and vision insurance
Flexible spending account
401(k) – Museum matches 50% of employee contribution up to 6%; employer contribution full vested after 3 years of employment
Life insurance and AD&D – $15,000 policy employer paid; additional life and AD&D available
Long term disability insurance
Paid vacation and sick leave, 10 paid holidays per year
Free parking
Tuition assistance and professional development
Employee assistance program 
The National WWII Museum is an equal opportunity employer and seeks diversity in its workforce.  We are dedicated to a policy of non-discrimination in employment on any basis including race, color, religion, age, sex, national origin, disability status, genetics, protected veteran status, sexual orientation, gender identity or expression, or any other characteristic protected by federal, state, or local laws.  Consistent with the Americans with Disabilities Act, applicants may request accommodations needed to participate in the application process.
Interested candidates should apply online at www.nationalww2museum.org/employment or mail resumes to 945 Magazine St., New Orleans, LA 70130.