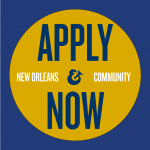 Website The National World War II Museum
The National WWII Museum is currently seeking an Admissions Associate.  This part-time position reports to the Visitor Services Manager and is responsible for maintaining a welcoming rapport with visitors and providing information and customer service as necessary.  The Associate determines admission prices and processes ticket orders in a courteous manner, giving Museum guests an exceptional level of customer service at all times.
The ideal candidate will have familiarity with ticket sales software programs and experience balancing daily receipts. In addition, outstanding customer service and communication skills are essential.  Finally, the ability to work a flexible schedule is a must as weekend work is required.
The current hourly wage for Admissions Associate is $15.50 per hour. 
The National WWII Museum is an equal opportunity employer and seeks diversity in its workforce.  We are dedicated to a policy of non-discrimination in employment on any basis including race, color, religion, age, sex, national origin, disability status, genetics, protected veteran status, sexual orientation, gender identity or expression, or any other characteristic protected by federal, state, or local laws.  Consistent with the Americans with Disabilities Act, applicants may request accommodations needed to participate in the application process.
Interested candidates should apply online at www.nationalww2museum.org/employment or mail resumes to 945 Magazine St., New Orleans, LA 70130.