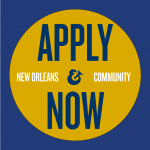 Website The National World War II Museum
The National WWII Museum is currently seeking a part-time Sales Associate.  This position reports to the Museum Store Manager and is responsible for all aspects of customer service in the Museum stores.  Job duties include greeting and assisting customers, accurately processing transactions, stocking shelves, and maintaining a clean and orderly store.
The ideal candidate will have a minimum of 2 years of retail experience, good communication skills, basic merchandising skills, basic math skills and be passionate about retail.  In addition, the ability to work weekends and holidays is required.
The current hourly wage for a Sales Associate is $15.50 per hour. 
The National WWII Museum offers a competitive wage and benefits package which includes the following:
Competitive wages
Flexible spending account
401(k) – Museum matches 50% of employee contribution up to 6%; employer contribution fully vested after 3 years of employment
Paid vacation and sick leave, 10 paid holidays per year
Free parking
Employee assistance program
Any questions and requests for additional information about this position can be directed to Nicole Crochet, (504) 528-1944 x278 or nicole.crochet@nationalww2museum.org.
Please visit our careers page to see more job opportunities.