The Presidential General and Open Congressional Primary Election will be held Tuesday, November 3, 2020. In addition to voting for President and Vice President of the US, individuals will also be voting for congressional delegates with seats up for election as well as applicable local elections and a number of constitutional amendments.
Below provides a breakdown of upcoming dates and information you should know before you go vote.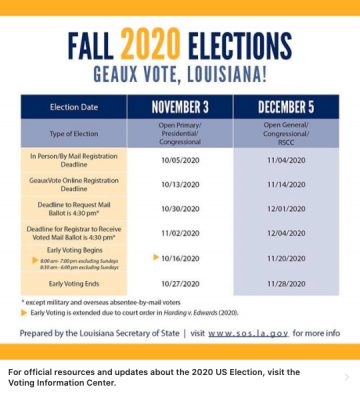 Helpful Links
Find out how to register online
View sample ballot and (election day) polling locations
Find early voting polling locations
Contact your Registrar's Office
Remember to bring your license or picture ID
The Public Affairs Research Council of Louisiana provides an independent, non-partisan review of the 2020 Constitutional Amendments and what a vote for or against each measure means. A full guide can be found here.
Questions? Contact us at publicaffairs@neworleans.com