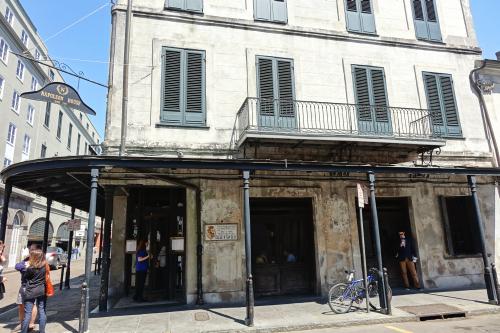 Mayor Mitch Landrieu just announced additional steps that the City of New Orleans, in partnership with the hospitality industry and local community, is taking to improve the quality of life and enhance public safety for everyone in the French Quarter, including local residents, workers and tourists. The new NOLA Patrol pilot program is an exciting public/private partnership with the potential to dramatically affect the safety and quality of life in a neighborhood which serves as a critical economic engine and job creator for our city, region and state. Curious to know what this all means? Here are 5 things you should know about the NOLA Patrol pilot program.
1. Similar programs have a proven track record of success in other popular destinations, most notably in Times Square, where civilian NYPD Traffic Enforcement Agents play a vital role in keeping the streets of New York City safe and moving.
2. The funding for this new program is being generated sustainably from tourism revenue, and will not cost local residents any additional tax dollars. The New Orleans CVB is proud to partner with the Greater New Orleans Hotel and Lodging Association and nearly all of our downtown hotels in order to pay for this new program through the CVB's membership dues as well as a voluntary self-assessment 1.75% hotel/motel tax that is added to hotel bills at participating hotels. This is the kind of profound, impactful change that can happen when the city and the hospitality industry work together to benefit the public.
3. The decision on how the hotel assessment money is spent is up to the Mayor and the City Council, not the tourism industry, and the public will have the chance to weigh in at City Council hearings before the money is finally appropriated, to allow for a fully transparent process.
4. NOLA Patrol officers will work in conjunction with sworn Police officers, but will be easily differentiated from NOPD. They will have their own uniforms, and specially marked vehicles, but they will not be armed. These grounds patrol officers will handle traffic control and other non-emergency tasks, freeing up NOPD to focus on emergencies and improving response times. If proven successful, NOPD will examine the benefits of expanding the program and stationing NOLA Patrol officers in other districts throughout the city.
5. The pilot program seeks to hire an initial 50 NOLA Patrol officers. While NOPD is also ramping up recruitment of sworn police officers, the civilian NOLA Patrol officers can be trained and on the streets much more quickly, allowing a more immediate impact and enhanced NOPD visibility downtown. The NOLA Patrol program will also serve as a training ground for those interested in pursuing a future career as a fully sworn police officer.
As New Orleanians, we all have a responsibility to ensure every part of our city is safe for residents and visitors alike, and the NOLA Patrol program is a way for interested citizens to get involved and take immediate action. To learn more about becoming a police officer or civilian grounds patrol officer with NOPD, visit joinnopd.org.