Job Fest is coming to a neighborhood near you! Join us on Wednesday, April 12th from noon until 3 p.m. for our April Job Fest at the Cut-Off Recreational Center. Our hospitality and tourism employers will be there, looking for great, enthusiastic candidates like you. More details are below!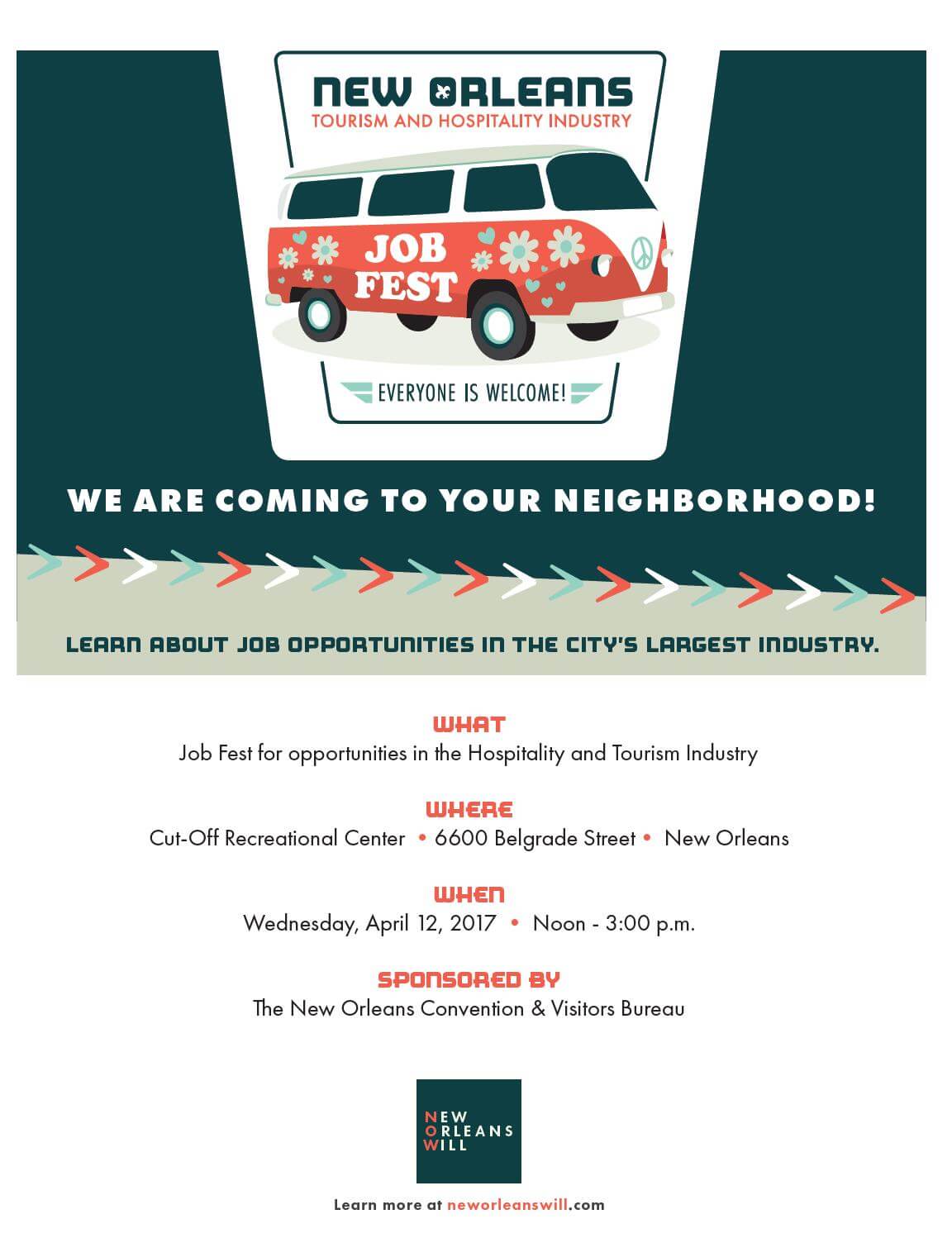 April Job Fest

When: Wednesday, April 12th from noon until 3 p.m.
Where: Cut-Off Recreational Center, 6600 Belgrade Street,  Algiers, New Orleans
Who:  The New Orleans Convention & Visitors Bureau is hosting the event. Everyone is welcome to attend. A sample of the employers participating include:
Louisiana Restaurant Association
Hospitality Enterprises/Big Easy Tours
NOPD
Royal Sonesta
Riverview Room and New Orleans School of Cooking
Hilton New Orleans Riverside
Hotel Monteleone
Intercontinental New Orleans
HRI PROPERTIES
Four Points by Sheraton
Royal Carriages
Delta Personnel
Holiday Inn Downtown Superdome
Delaware North Companies
Creole Cuisine
Louisiana Motor Coach, Inc.
*List of employers are subject to change
What: Designed to be a one-stop shop for job candidates, Job Fest allows participants to meet with a variety of employers from hotels, restaurants, and other tourism fields. Participants can ask questions and learn more about the hiring process in a welcoming, one-on-one setting. The Job Fest is part of an effort to connect job seekers to careers in the hospitality and tourism industry across New Orleans.
Why: In New Orleans, tourism provides thousands of satisfying jobs in fields like guest relations, finance, administration, housekeeping, food and beverage service and beyond. Each job offers an opportunity for growth to move up in a company while enjoying employee benefits and the peace of mind that comes with a steady paycheck. A job in hospitality and tourism – which can start by a visit to Job Fest – is the basis for a lasting and fulfilling career in New Orleans.