If you're looking to advance your career in a flash, you can: on Monday, June 22, the New Orleans residents of District B can attend a Flash Career Fair, a special event for job seekers in the hospitality industry.
Councilmember LaToya Cantrell hosts the event, which runs from 10 a.m. until 1 p.m. at IDIYA, a workspace located at the corner of Washington Avenue and S. Broad Street.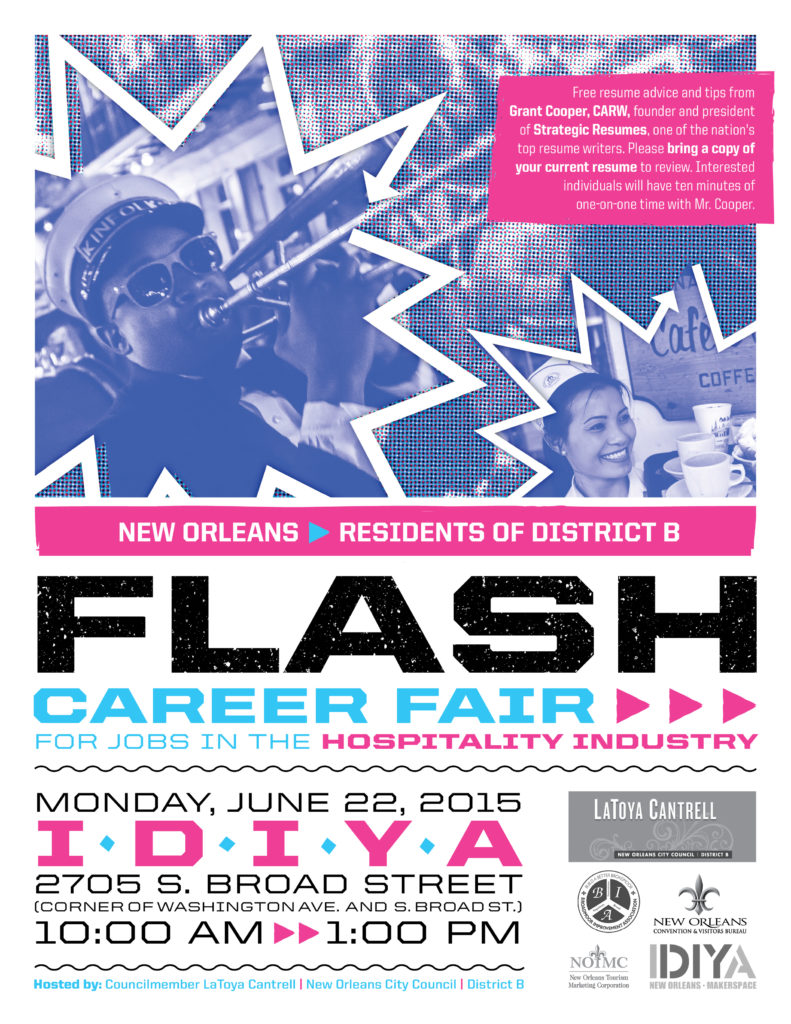 What to Bring
A positive attitude. These events are meant to be informal meet and greets, so don't worry if your suit is at the dry cleaners or your resume needs some tweaks. In fact, Grant Cooper, New Orleans' only certified advanced resume writer, will be on site to provide free resume advice. Individuals will have ten minutes of one-on-one time with Cooper, who has vast experience writing resumes across virtually all career fields. His past experience with multi-million dollar companies, film industry professionals, attorneys, physicians, and many more professionals gives him a discerning eye for helping you fine-tune your resume.
Who Will Be There
In addition to LaToya Cantrell and Grant Cooper, Flash Career Fair will feature a variety of hospitality entities in the city. Harrah's Casino will be looking for potential employees, as will Dickie Brennan & Company, whose vast array of restaurants offer employment opportunities from host and server to the chefs, line cooks and dishwashers in the back of the house. The New Orleans Hotel Collection, New Orleans Tourism & Marketing Corporation, the Hilton Garden Inn and Broadmoor Improvement Association will also be on site.
A Good IDIYA
IDIYA is a fitting space to host the Flash Career Fair. A workshop and design studio, IDIYA nurtures entrepreneurs, builders and DIYers in a creative atmosphere. The modern space features a variety of machinery, tools and equipment to help people finish a project and make an idea become a reality.