When Pierre and Diane Bagur opened a praline shop in the French Quarter, the couple probably didn't realize the history being made. More than 80 years later, Aunt Sally's Original Pralines is an iconic – and quite delicious – part of New Orleans culture. Its packaged sweets are ubiquitous throughout the city, including two Aunt Sally's retail locations, giving locals and tourists alike a unique take on a Southern favorite.
The company is proud of its strict adherence to the traditional praline-making process. But make no mistake, this is a modern enterprise right down to its sophisticated use of online sales and a meticulously crafted marketing campaign based on the sights, sounds and, of course, tastes of New Orleans.
We sat down recently with Rebecca Rapp, Aunt Sally's marketing manager, for her take on how this down-home brand both contributes to and benefits from the city's hospitality and tourism industry, one bite at a time.
How long have you lived in New Orleans?
A lifelong resident of the area, Rapp grew up in Old Jefferson but returned to New Orleans to attend Loyola University. "I've had a few stints outside the city, but you know what they say, New Orleans has the boomerang effect on you."
What do you love most about the city?
Its secrets. As an artist, archeology enthusiast, and recent restorer of an historic home, I love what lies beneath. The cobblestones and streetcar tracks that peek through the tar-paved streets. The old color-washed plaster walls and beautiful cypress wood cloaked by layers and layers of modern paint. The courtyards tucked behind stacks of brick buildings, shutters, and doors. They all have stories. We're lucky to live in a magically aged city. Like subliminal messaging, these elements fuel our incredibly soulful and intense music, art and food.
Talk a little bit about your career and how you've gotten to the position that you are currently in.
I have a strong background in the retail industry and have balanced both retail and design since the beginning of my career. My retail experience comes from 10+ years in the pet industry (from Jefferson, LA to Washington, D.C.), finally ending up with my own pet supply store in Ponchatoula, LA. Throughout my pet industry tenure, I successfully operated two design businesses. When the coolest career move opened up as the Sales & Marketing Manager of Aunt Sally's Pralines… I couldn't pass it up!
I've been an artist for as long as I can remember, more along the lines of design than expression. I appreciate product and package design, and I'm fascinated by how we are influenced by color, texture, typography and messaging.
What do you do as sales & marketing manager at Aunt Sally's. It must be a fun job.
It is so much fun! Talk about history – 82 years and going strong. Aunt Sally's Pralines has a lot of stories to offer and a bright future ahead. As sales and marketing manager, I'm privileged to be one of its influencers, leaving another layer for future generations to discover. I contribute to retail with my merchandising and inventory experience – wholesale with knowledge of consumer needs and demands – and marketing and design by addressing a changing market or way in which consumers find our product.
Pralines are iconic to New Orleans. With Aunt Sally's having one of its locations in the French Quarter, what is the company's relationship with tourism?
I recently wrote this snippet for our product guide:
Copper pots… marble slabs… sweet scents of vanilla, bananas, coffee, and chocolate wafting through cobblestone streets… Our pralines are as romantic as their birthplace, and their birthplace is one of the top five most romantic cities in the world. New Orleans defines Aunt Sally's and our pralines define New Orleans.
We know that when visitors come to New Orleans, they want an Aunt Sally's praline. Our pralines and copper pots are as iconic as seafood and crawfish pots! We take pride in giving our visitors a taste of our local tradition, and we're happy to know that our pralines are universal and uniting.
new orleans defines aunt sally's and our pralines define new orleans.
The latest figures show New Orleans hosted more than 10 million visitors last year, surpassing pre-Hurricane Katrina levels. What is your experience with the role of tourism and the ways it benefits local residents?
At Aunt Sally's Pralines, we hand pour with love thousands of pralines a day. A large percentage of these pralines are purchased by tourists at our locations on Decatur Street and St. Charles Avenue, at hotels and gift shops, and even local airports. Think of how many sources of revenue are affected when there's a decline in tourism.
Also, we have about 40 employees at Aunt Sally's, and nearly all of us are New Orleans natives, with several working here for 15 years or more. Like all local residents and businesses, Katrina delivered a one-two punch, affecting both work and home. A fall in tourism meant a fall in demand for most of the city's industries. And then there are the ingredients of our products like Louisiana pecans. It's a trickle-down effect.
Like much of New Orleans, our staff and business is strong. We've worked steadily over the years to give visitors a superior product that reflects our culture and our home. When we talk about tourism, we talk about keeping our copper pots boiling, which means keeping and growing jobs for New Orleans residents across the retail, hospitality and food industries. We're grateful for all our visitors!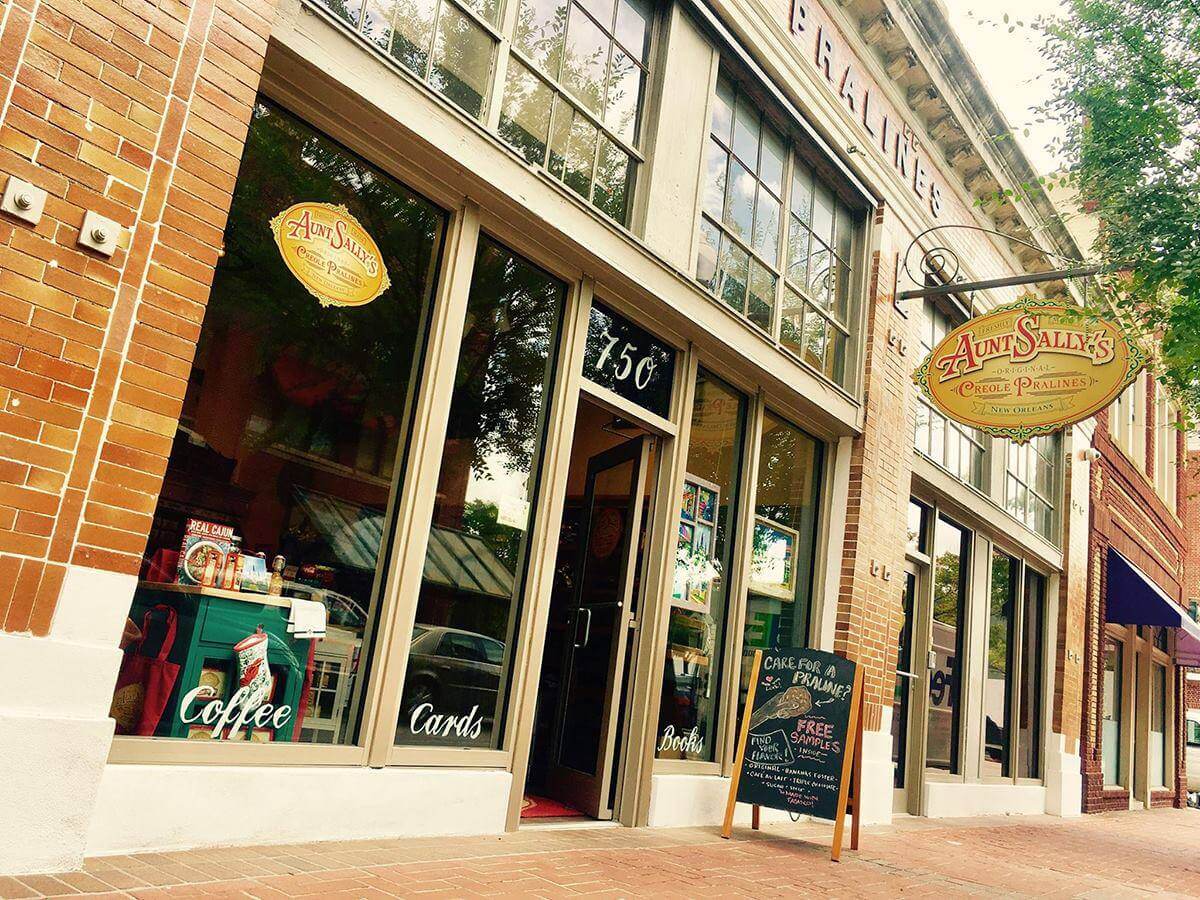 What would our city look like without hospitality and tourism?
A crawfish boil without any fixin'? A bloody mary without any groceries? We'd still have plenty of flavor, thanks to our locals. But the city is so dynamic because of the surprises that come along with a new face and a new story.
Where do you see New Orleans going in the next five years? Answer by completing the sentence: "New Orleans will…"
New Orleans will be THE place to visit and stay. We will continue to grow with a shared vision of peace and prosperity. We will be the sought-after melting pot of history, culture, business and entertainment. With renovated theatres, jazz brunches resonating every Sunday and all life that continues to be breathed into the city, New Orleans will be a beacon for all to come, shake hands, and exchange stories, keeping this city fresh and thriving! And Aunt Sally's Pralines will be, as it has been for more than 80 years, in the heart of it all.