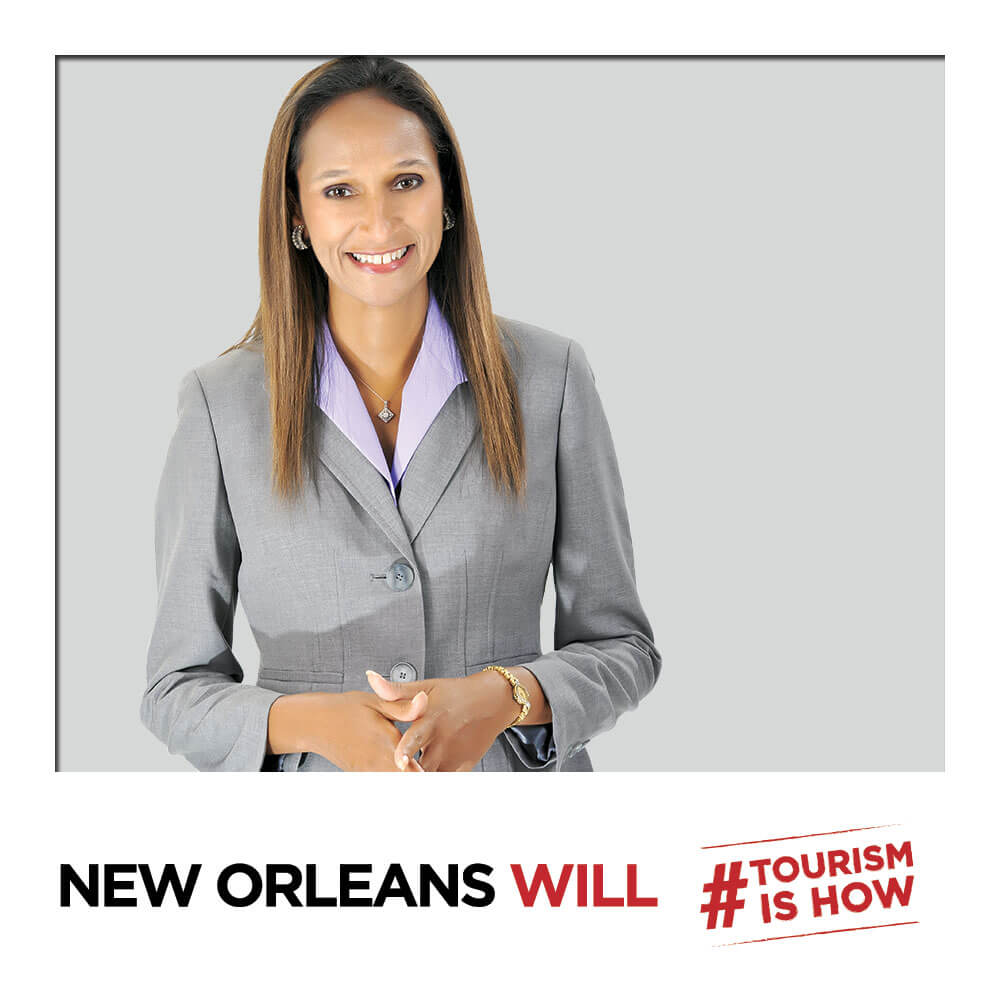 New Orleans is known for so many things – music, culture, food, and history to name a few. And in no better place do all those things come together than at a festival. From Jazz Fest to French Quarter Fest to every fest in between, a New Orleans festival is part of who we are. We love attending so many of these events and truly enjoy ourselves, but rarely do we stop and consider what it takes to organize a festival. That's part of the idea, says EJ Encalarde, who serves as president and COO of Festival Productions Inc., a New Orleans-based group that puts on large-scale festivals like Jazz Fest and Essence Fest.
We spoke with Encalarde to find out more about what happens behind the scenes at a festival and the minute details that go into creating a seamless event for attendees. We also take a closer look at her career trajectory in hospitality and the "one-of-a-kind excitement" she experiences within the tourism industry, a career Encalarde says contributes to her life experiences rather than just her wallet.
How enriching, to play a part in an enjoyable career that showcases our culturally rich ways of life! 
-EJ Encalarde
How long have you lived in New Orleans?
I've lived in New Orleans really all of my life. I was born in Shreveport and moved here when I was 2 years old. I left briefly for college but returned because I missed my beloved city.
Tell us about your role with Festival Productions.
Well, I am the COO/President of Festival Productions, Inc. New Orleans (FPINO) and have been with this amazing company for more than 25 years. My role can be complex and diverse with constant change and challenges. I work with our brilliant CEO and talented executive team to communicate the company's vision and strategy to our directors and assist as needed to help them take the lead in implementing it. I am responsible for ensuring that we deliver our projects on time.
As someone who had a completely different career path in mind, what made you decide to continue growing in your role with Festival Productions?
I was drawn to the unbelievable creativity, wit and unparalleled energy displayed among the staff. I began to love producing entertainment events. Our primary focus is to celebrate and deliver a unique entertainment event to audiences world-wide. For Jazz Fest, we present the culture and heritage of New Orleans and Louisiana music to the local community, domestic and foreign tourists and clients that share our affection for a magnificent city. Throughout my work with Festival Productions, I learned the importance of our artistic contribution to the tourism industry and the significant resourceful impact to the local economies and community. How enriching to play a part in an enjoyable career that showcases our culturally rich ways of life!
What do you love most about your work?
The production tasks are diverse, and this creates a one-of-a-kind excitement when working with our high performing team. Our goal is collectively sought after: to create a top-notch experience for festival-goers and event attendees. Production details are our best friend! We love to meet, design and hopefully surpass our attendees' expectations.
What advice would you give to young women looking for a career path? What would you say to encourage them to look at the tourism industry?
I would encourage young women to write down their dreams and values. They should look for a career that fills more than their wallet, especially if they want to have memories and enjoyable experiences that will last a lifetime. Also, think about careers that may be non-traditional but allow you to expand your imagination and possibly fill a niche or gap in the workplace. Consider retaining a mentor or career life coach to help you identify your top attributes through valuable assessments. There are so many sub-paths you might find interesting within the New Orleans tourism industry. This versatile industry is critical to many national and global operations. For example, if you look at New Orleans and its national and global importance, you could pursue a job in marketing & communications, media & advertising, the travel and tour operator industry, hotel and restaurant management, as a medical researcher, port operations management, cruise ship operations, culinary operations, a petroleum engineer, a wildlife biologist, fish and game wardens and conservation officers, a maritime lawyer, or as an architectural engineer to name a few options. Apprenticeships and internships are a terrific way to help you in consideration of the career path that best fits.
Can you talk about the importance of tourism to the city's economy? What does that mean for locals?
I immediately think about the domestic and international tourists and the impact they make on our city's economy. I enjoy seeing the great quantity of conventions, sporting and entertainment events, and arts and cultural experiences that we host. Their spending directly impacts our economy. I read that "New Orleans visitors spend more per person than visitors to the rest of the State…and our city has a higher economic impact." Tourism also brings jobs to our city. These adoring visitors support our culture and local businesses; and spend money in many sectors of our local community. This now allows our local businesses that earn money from the tourists to put their money back into the city's economy. It really is a "multiplier effect"; a win-win because the economic benefit has a positive outcome for everyone – tourists, local businesses and individuals.
What do you think New Orleans would look like without tourism?
Tourism has played a significant role in strengthening the local economy from decades past. Throughout our tourism transformation, we became comfortable presenting our special and unique culture to the national and global world and cultivated this precious commodity. New Orleans began to thrive economically with tourism and develop a sound revenue stream. I believe the matchless New Orleans, with its cornucopia of cultures and ethnic populations, is a resilient American city that will survive even without tourism, as seen from its resurrection through the devastation of Hurricane Katrina. But so many people love us because we are a social people and a social exchange takes place when the tourist comes to visit. They carry back home a little of our culture, way of life, our smile and even our slower way of having conversations. Once they visit, they desire to come back again and again.
What would you like to see New Orleans accomplish in the future?
In the future, I would like to see the New Orleans education system thrive with the same perseverance and commitment to excellence as the tourism industry. While we provide unparalleled experiences that demonstrate the history, culture, and resilience of this city, it's imperative that we strive to provide all our city's children with a strong, reliable, and supportive school environment.
What do you love most about this city?
I love the beautiful architectural buildings. The styles are so diverse and change as you journey through the neighborhoods. There are quiet neighborhoods, noisy ones, blocks lined with majestic oak trees, intoxicating southern magnolias and full in bloom camellias. The buildings tell the story of variant cultures and population communities. Cottages, mansions, bungalow houses, even cemeteries are some of the striking historic structures. It's funny how I can easily rediscover high ceilings, sheetrock walls, and clay tile roofs when I walk along the uneven brick sidewalks during morning meditation strolls. Our architectural design, styles and structures are amazing!
NEW ORLEANS WILL…
Stand strong in its splendor!