After enjoying the wonderful parades of Mardi Gras, come out to New Orleans East and talk with some of our finest companies who are looking to hire residents of the city. New Orleans & Company is hosting its February Job Fest at the New Orleans East Library on Thursday, February 27, 2020 from noon – 3 pm. Parking will be available for guests to utilize. More details are below.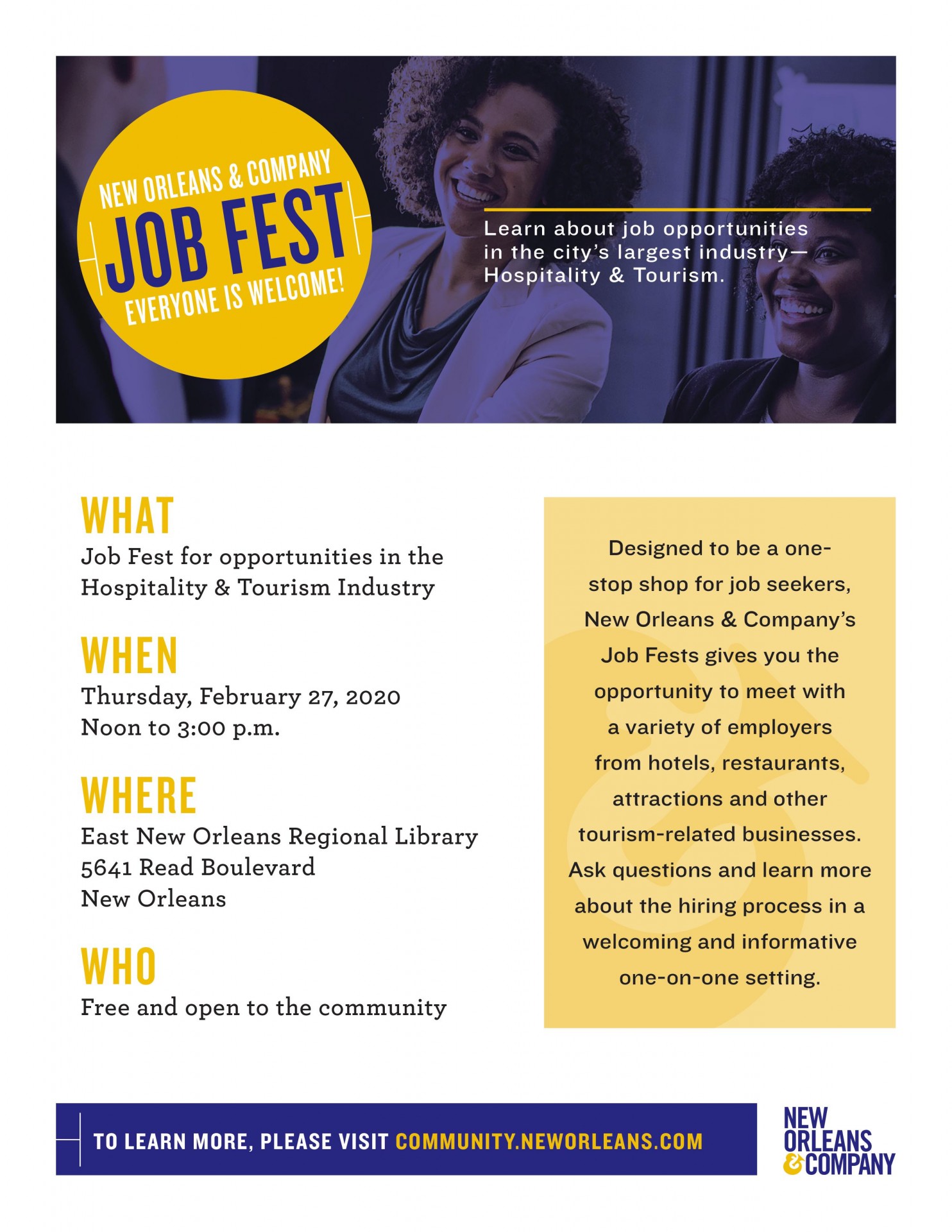 When: Thursday, February 27, 2020, Noon-3 p.m.
Where: New Orleans East Library, 5641 Read Blvd.
Who: New Orleans & Company is hosting the event. Everyone is welcome to attend. 
Who: New Orleans & Company is hosting the event. Everyone is welcome to attend. List of the participating employers below.
Abbott's Frozen Custard 
Auction House Market
Audubon Nature Institute
Fair Grounds Race Course & Slots
Higgins Hotel
Hotel Monteleone 
HRI Lodging – Hyatt Centric, Eliza Jane Hotel, Aloft, Holiday Inn Express, Homewood Suites
International House 
Job 1
Le Pavillon 
Liberty's Kitchen 
Marriott International 
New Orleans Police Department 
Omni Riverfront Hotel
Orleans Parish Sheriff Office
Pelican New Orleans 
People Ready
Royal Sonesta New Orleans
U.S. Army
Waffle House
Hilton New Orleans Riverside
Census Bureau 
Jung Hotel
Bourbon Orleans Hotel
Convention Center
What: Designed to be a one-stop shop for job candidates, New Orleans & Company's Job Fest allows participants to meet with a variety of employers from hotels, restaurants and other tourism-related businesses. Participants can ask questions and learn more about the hiring process in a welcoming, one-on-one setting. New Orleans & Company's Job Fest is part of an effort to connect job seekers to careers in the hospitality and tourism industry across New Orleans. 
Why: In New Orleans, tourism provides thousands of satisfying jobs in fields like guest relations, finance, administration, housekeeping, food and beverage service and beyond. Each job offers an opportunity for growth to move up in a company while enjoying employee benefits and the peace of mind that comes with a steady paycheck. A job in hospitality and tourism – which can start by a visit to this Job Fest – is the basis for a lasting and fulfilling career in New Orleans.