It's never too late for a career change! New Orleans & Company is hosting their February Job Fest at East New Orleans Library, 5641 Read Blvd. Join us on Tuesday, February 26, 2019 from Noon-3 p.m. A parking lot will be available for all guests to utilize. We have some of the top employers in the city's largest industry ready to hire great, enthusiastic people like you! More details are below.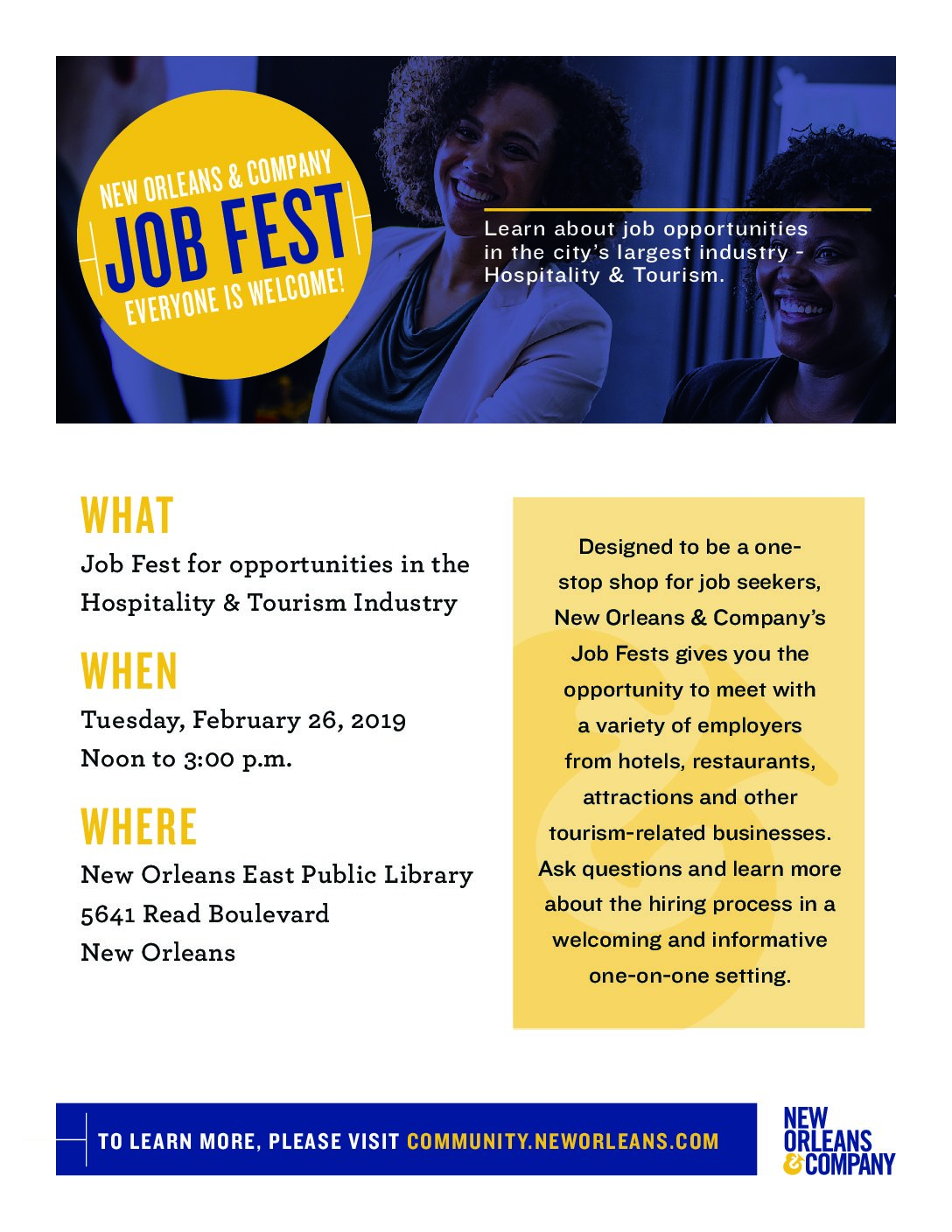 February Job Fest Details 
When: Tuesday, February 26, Noon-3 p.m.
Where: East New Orleans Library, 5641 Read Blvd. 
Who: New Orleans & Company is hosting the event. Everyone is welcome to attend. List of some of the participating employers below. 
City Park

Hilton New Orleans Riverside

New Orleans Culinary & Hospitality Institute

Daughters of Charity

Job 1

International House Hotel

Boomtown Casino & Hotel

Waffle House

Centerplate

Juan's Flying Burrito 

NOLA Hospitality

New Orleans Police Department (NOPD) 

Coaxum Enterprises

Liberty's Kitchen

Intercontinental New Orleans 
What: Designed to be a one-stop shop for job candidates, New Orleans & Company's Job Fest allows participants to meet with a variety of employers from hotels, restaurants and other tourism-related businesses. Participants can ask questions and learn more about the hiring process in a welcoming, one-on-one setting. New Orleans & Company's Job Fest is part of an effort to connect job seekers to careers in the hospitality and tourism industry across New Orleans. 
Why: In New Orleans, tourism provides thousands of satisfying jobs in fields like guest relations, finance, administration, housekeeping, food and beverage service and beyond. Each job offers an opportunity for growth to move up in a company while enjoying employee benefits and the peace of mind that comes with a steady paycheck. A job in hospitality and tourism – which can start by a visit to this Job Fest – is the basis for a lasting and fulfilling career in New Orleans.