After the tremendous success of the first Flash Career Fair, it's back again. On Wednesday, July 15 from 10 a.m. – 1 p.m., Councilmember LaToya Cantrell, the New Orleans Convention and Visitors Bureau, and New Orleans Tourism Marketing Corporation will host a hospitality and tourism industry career fair featuring a variety of jobs within the industry. Read on for more details about this casual, welcoming opportunity to advance your career: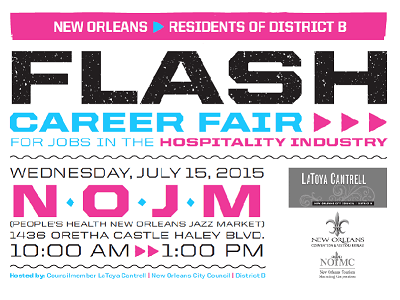 Where to Go
The July Flash Career Fair will take place at the People's Health New Orleans Jazz Market at 1436 Oretha Castle Haley Blvd., at the corner of Martin Luther King, Jr. Boulevard (check out a map here). The market is "an investment in the soul of the city," according to its mission statement, and focuses on the intersection of music and the community-oriented spirit of New Orleans. A meeting place for the Central City community as well as the entire city, the New Orleans Jazz Market is a fitting venue to explore vibrant new career opportunities in hospitality and tourism.
What to Bring
First and foremost, the Flash Career Fair is designed to facilitate networking and make the job application process easier and more approachable. If you have an updated resume, plan to bring it along with you – but if you don't, simply bring a positive attitude: resumes are not required. There will be opportunities to speak with employers one-on-one and engage in informal conversations about the hiring process.
Join a Robust Sector of Employment
Did you know that hospitality and tourism comprises New Orleans largest industry? The field employs more than 78,000 New Orleanians – and it's growing. This is the second Flash Career Fair in District B, illustrating a wider initiative to host tourism and hospitality career fairs throughout all five districts in the city.