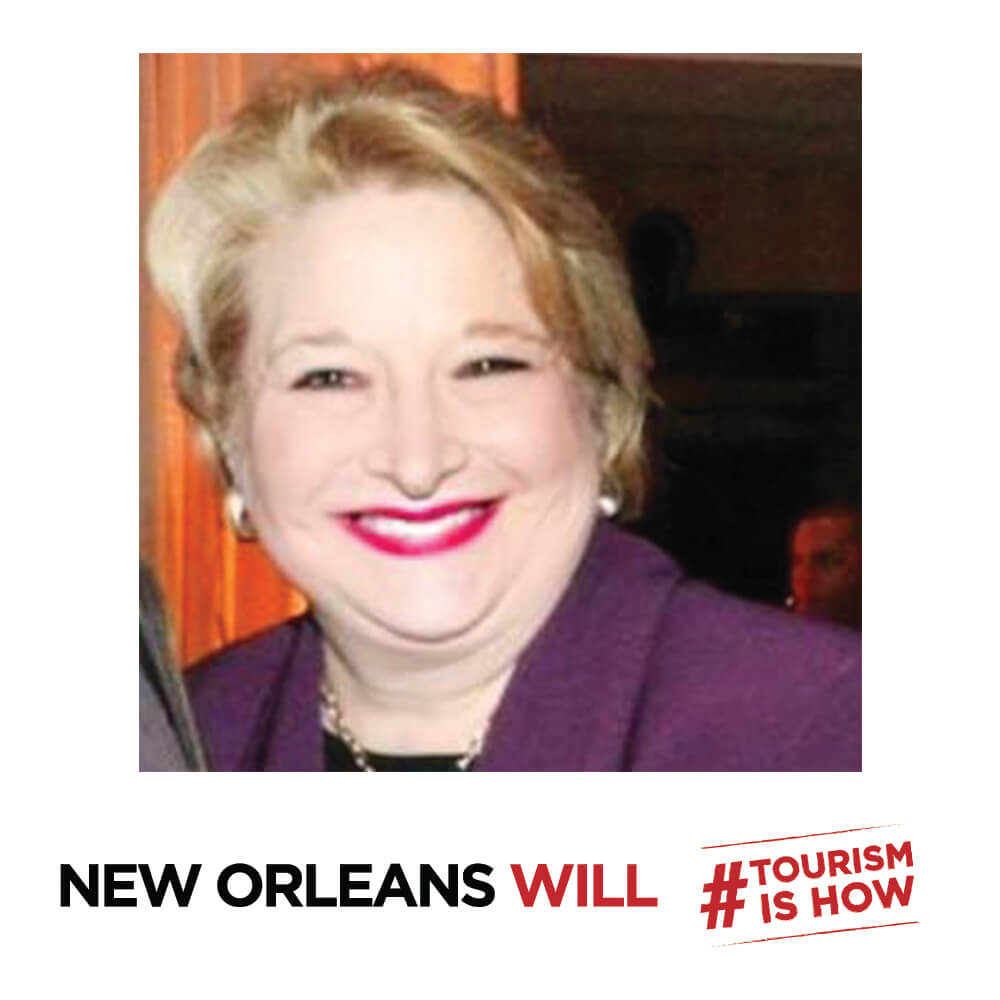 For Diane Riche, the director of sales and marketing at Loews New Orleans Hotel, a career in hospitality was "a happy accident."
"The business gets into your blood – it turned out to be a great career choice because it enabled me to promote the City of New Orleans, which I love, as a destination to potential clients from all over the country."
If hospitality is her career, service is her passion. Riche is deeply involved in and serves as local president of Dress for Success, an international organization that provides professional attire and a network of support for disadvantaged women who are seeking employment.
Read on for our full interview with Riche, where she explains the close connection between tourism and nonprofit endeavors like Dress for Success.
How long have you lived in New Orleans?
I am a native and have lived here all my life, with a few years away for college.
Why did you choose a career in hospitality?
I fell into this business by a happy accident. I started out as a sales assistant in a French Quarter hotel (referred by a friend). I learned the business by working my way up as a Sales Manager, Associate Director of Sales, Director of Sales, then Director of Sales & Marketing.
The business gets into your blood – it turned out to be a great career choice, as it enabled me to promote the City of New Orleans, which I love, as a destination to potential clients from all over the country. What could be better than talking about all that this great city has to offer and influencing meeting planners to bring their groups to NOLA?
I have made so many great friendships over the years within this industry, working with wonderful people. It also gave me the opportunity to travel all over the world, which I always wanted to do.
Tell us about Dress for Success and your involvement with the organization.
Started in 1997 by a woman in New York City who inherited $5,000 from her great grandfather, Dress for Success is an international organization that helps disadvantaged women get into the workplace by providing professional attire, a network of support and career development tools to help them thrive in work and life.  I joined the board about six years ago and have thoroughly enjoyed working with the clients, donors and volunteers.  Our mission is to help women get a job so that they will become financially independent.
The women who come to us (via an appointment from agencies all over the city) are from all walks of life, all ethnicities and all education levels. They all have one thing in common: they want to do better. The programs that we offer these women allow them to take that first step toward a new life, and to keep the job and move up.  When she gets the job, not only is her life positively impacted, but also the lives of her children, her family and the community.
We operate a "boutique" at 6117 Magazine Street, where our clients come to shop for the perfect outfit. They are met by a personal shopper who helps them choose just the right outfit from head to toe, complete with handbag, shoes and jewelry.  She is invited to utilize our Career Center, where we can help her create a resume, establish an email address and offer one-on-one coaching to do mock interviews.  Our members have access to the computers during our normal business hours.
After the client is hired, she is invited to join our Professional Women's Group, which meets monthly. There they are exposed to professional speakers who are experts in their field, who share information on a variety of topics relevant to the group. It is also an opportunity for them to network with their peers and with women who are established in their careers who can offer advice and encouragement to someone just starting out or returning to the workforce after a hiatus.
How does your career in the hospitality industry support your efforts with Dress for Success?
My employer, Loews New Orleans Hotel, has been extremely supportive of my work with the organization. My general manager allows me the time to serve on the board (I am president this year) and to host our board meetings, as well as the professional women's group meeting for our clients, on a monthly basis.  We provide a professional setting and dinner meeting for the women who have secured jobs and are interested in growing and moving up. A speaker addresses issues that are important to the group, ranging from financial literacy, written and unwritten rules of the workplace, work/life balance, health and wellness, and community.
Additionally, I have had corporate and association groups who have worked through destination management companies contact Dress for Success to ask if they could support our mission while they were in town for a meeting, by organizing a clothing drive, contributing financially or volunteering with our clients for suiting or other team-building activities.
Tell us about one of your proudest moments during your involvement with Dress for Success.
Each year there is an event called Success Summit that is hosted by Dress for Success worldwide. Each affiliate identifies a member of our professional women's group, and she is invited to travel to the event along with the DFS Coordinator. In 2013 I served as the coordinator, and I chose a woman who I felt stood out among the group. In my conversations with her at our monthly meetings, she told me that the reason that she had her current job, which she felt was her life's work, was because she was inspired by the speaker at our holiday gathering.
She and I traveled to the Summit in Miami, where we participated in the events of the weekend. I watched this woman blossom before my eyes as she networked with the other attendees and was empowered as she experienced for the first time the high-level seminars, presentations, group discussions and social events. She was also selected to speak at the 2014 Annual Suits and Salads Fundraiser Luncheon the following January.
She took the podium and told her story to the 400+ guests in the room, sharing with the audience how long she had been out of work, how she had searched for a job, had come to Dress for Success and was inspired to re-contact a potential employer who had not hired her on the first interview. She got the job on the second try. She recounted what she had learned at the summit, telling the audience that it was the best thing she had ever attended in her entire life. She was so very grateful to be working full time now, at a job that gave her immense satisfaction every day.
There was not a dry eye in the room. It is seeing the transformation in these women, as they become financially independent and grow to their full potential, that makes me the proudest.
Why do you feel it is important for the tourism industry to contribute to the community and support nonprofit endeavors? What role does the tourism industry play in the community?
Tourism is an upbeat, exciting industry, which employs over 82,000 people in the city.  It is the largest employer and a huge economic engine. As a company, Loews has a philanthropic mindset, and it carries over to every aspect of their business.  We recognize the importance of giving back to the community. In addition to supporting Dress for Success, Loews Hotel has also partnered with Café Reconcile for many years, hiring many of their graduates as interns, and eventually as full-time employees. We are now working with Liberty's Kitchen, as well, with a similar program. At Dress for Success we like to say that we give our women a hand up, not a hand out.  It is the same with these young people who are coming through Reconcile and Liberty's Kitchen – with a hand up, they are able to reach their full potential and create a career for themselves that can last a lifetime.
What would you like to see New Orleans accomplish in the future?
I would love to see a clean, crime-free, safe environment, where visitors and locals can fully enjoy all that this fabulous city has to offer.
What do you love most about this city?
That is a hard question, because I love so many things about this city. One of my favorite things is to drive down St. Charles Avenue and take in the majestic oak trees, the gorgeous homes and the iconic streetcars. But of course, the food is also at the top of my list.  Walking through the French Quarter is right up there, too.  I don't think I can pick just one.
NEW ORLEANS WILL…
always be my home.