The Mardi Gras season is upon us, and for locals and tourists alike, the Roots Of Music Marching Crusaders are a highlight of every parade they march in. The local non-profit organization (The Roots of Music) is known nationwide and their mission is to empower the youth of NOLA through music education, discipline, tutoring and beyond. But how did they get to where they are currently? Recently, we learned how Rebirth Brass Band member Derrick Tabb founded the company in 2007, and the vision for Roots of Music's future.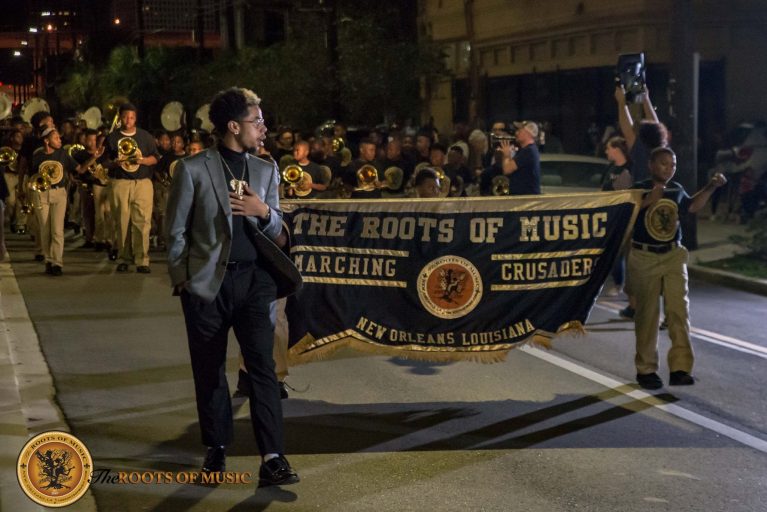 The Birth of Roots of Music
2007 wasn't a great year in New Orleans. It was the beginning of a long rebuilding process, following Hurricane Katrina the previous year. Entire neighborhoods were demolished. Many problems that didn't exist in New Orleans beforehand were now on full display. 
"In my neighborhood, I remember seeing the same kid who used to walk to the bus stop with his mom before Katrina now hustling on the street. I knew these kids didn't really have anything else to do. But I also knew if you were to give them a talent, they can use that same talent to make money. Even more money than they do hustling."
Derrick Tabb was born in Tremé, an area well known as "The Birthplace of Jazz." He began playing drums at the age of seven and was earning a living as a professional drummer by eleven. He credits neighborhood musicians like Benny Jones and Tuba Fats as huge influences. 
"I remember Uncle Benny owned his house and still had odd jobs here and there, and still lived in the 'hood. I looked up to him. He gave me my first drum, and was always trying to get us kids a gig. These guys had people like James Brown and Fats Domino coming to our neighborhood, sitting on the stoops with us. So from there, I knew I wanted to be a musician when I grew up."
Inspiration from Derrick's Childhood
"Basically I had the idea in my head for about ten years. My junior high band director (Donald Richardson) was basically my guardian in school when I was growing up, my disciplinarian. A lot of friends that I dealt with at the time were getting into trouble. I always thought, if Mr. Richardson could divide himself into four or five different people, he could save so many kids like me."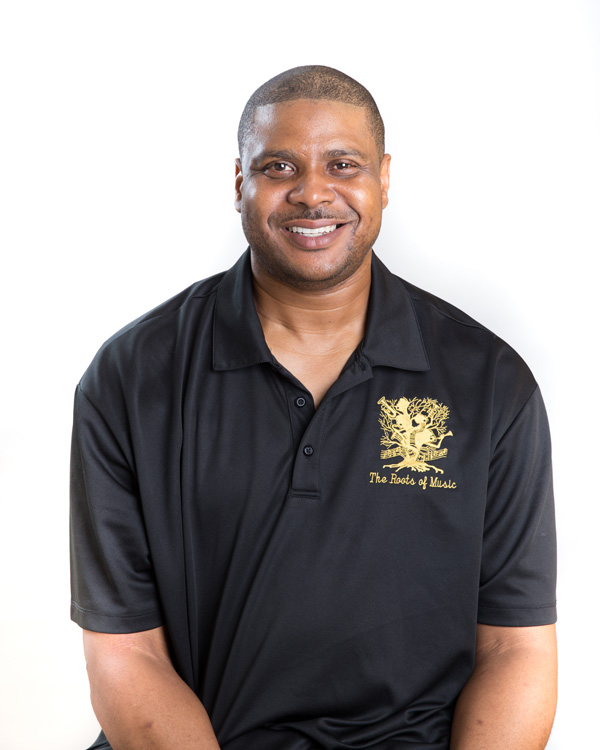 Derrick always thought that he could copy Mr. Richardson's program, but there were three things about the program that Derrick didn't like. 
"They didn't have transportation. They didn't offer food. And the homework was left to the kids to figure out once they were at home by themselves. Those were three things I knew I wanted to fix in my program whenever I started it.
Finally, I met Allison Reinhardt around 2007 and she really pushed me to start this program. We sat down for like five hours and wrote everything in my head down on paper." 
From there, Tabb knew that if he wasn't part of the solution to the issues facing New Orleans, then he was part of the problem.
"I knew 19 kids from around my house that were kind of headed the wrong direction, including my own kids. They just didn't have anything to do after Katrina. We had $20,000 and kids who wanted to learn the drums and learn to play horns. So we had people like Shoan Ruffins and Lawrence Rawlins help me teach the kids. We got a space at Tipitinas for about six weeks, and the program skyrocketed almost immediately."
Tabb says 42 kids showed up the first day, and after two weeks, there were over 100 kids coming to Tipitinas wanting to be a part of Roots Of Music. 
"I knew I couldn't financially deal with 100 kids at that time; we only slated for 19. So, we wound up getting kicked out of Tipitinas. My mom and Allison and everyone around kept trying to convince me that this program was the right thing to do and to keep it going." 
Tabbs' friends kept sending money in to help fund the program, and from there publicity started to hit.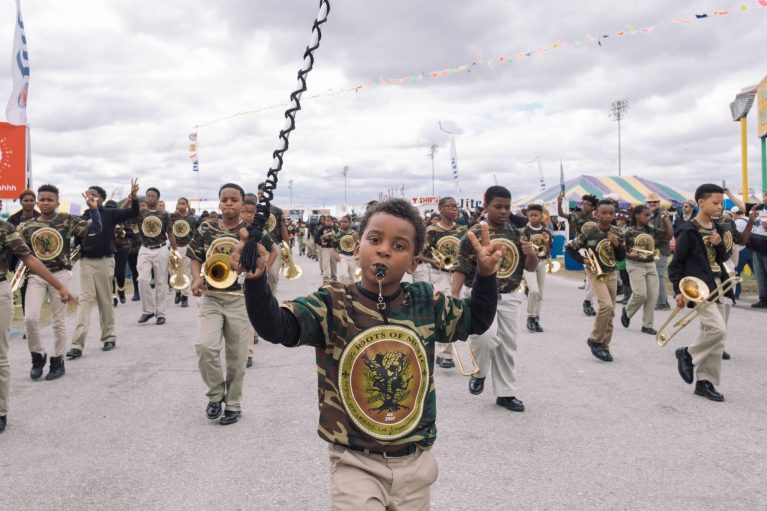 Once the program started to get some buzz around the city, Derrick was contacted by CNN in 2009 and was named a CNN Hero. And then MSNBC came. And then as part of Rebirth Brass Band, Derrick was on a GRAMMYs promotional tour, which helped tremendously. 
"Rebirth was the backbone of New Orleans post-Katrina, so I had a lot of eyes on me at that time. The timing made it easy for me to talk to new people about this program and to get funds from friends, etc. It felt like we blew up overnight, and we were just learning as we went."
"Discipline Is Always Number One"
According to their website, the organization provides more than 2,500 hours of music education and other academic tutoring; more than 30,400 nutritious, hot meals; 1,400 bus journeys; and supplies its students with over 150 instruments.
Roots' main goal is to provide New Orleans youth with the resources they need to lead lives that are positive, productive and self-reliant.
"Discipline is the most important thing we teach our kids. All of our kids are 9-14 years old, so if I can't get them to listen to us, we can't teach them and we can't take them anywhere. So we start with those principles. From there, we teach the kids how to blow the horn, hold drumsticks…the basic fundamentals. And then we move on to buzzing – getting them to make the worst noises they can make – and from there, we figure what instruments give certain kids certain advantages. Personality fits are important. After all of that, we teach them how to read music and play scales.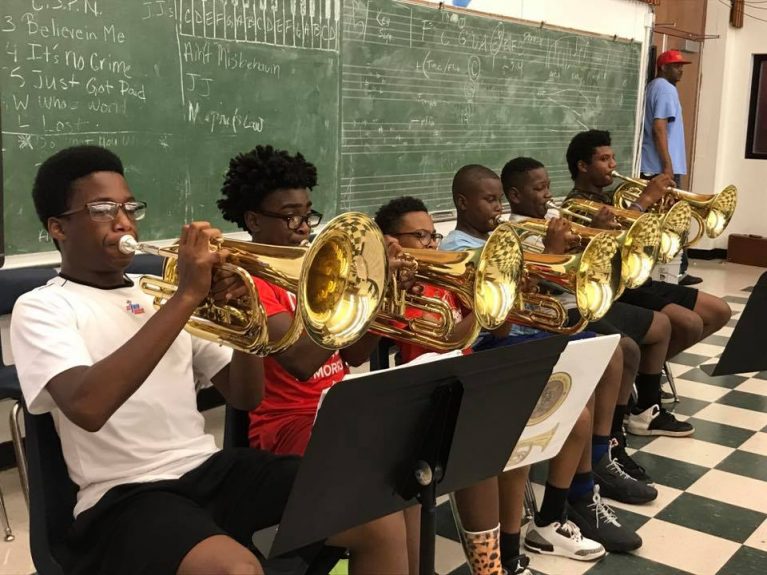 After about a month, these kids are picking up things that take most people years to learn. And it all rounds back to having a foundation of discipline. We attend events; before we even play a note, people are sitting on the edge of their seats, just waiting to see what we're going to play. Little kids are telling their parents that they want to be in our band. Our recent performance at 5th Ward Weebie's funeral put a stamp on it for me. The program we've put together has really worked."
The Future of Roots
"Having people come in and help is always a good thing. In the past two years, we received a lot of support from Tulane and Xavier. We have those college students coming in to tutor our kids and show them a future that they may not have known was possible. When I was growing up, I didn't even know college was possible, because I didn't see that in my neighborhood."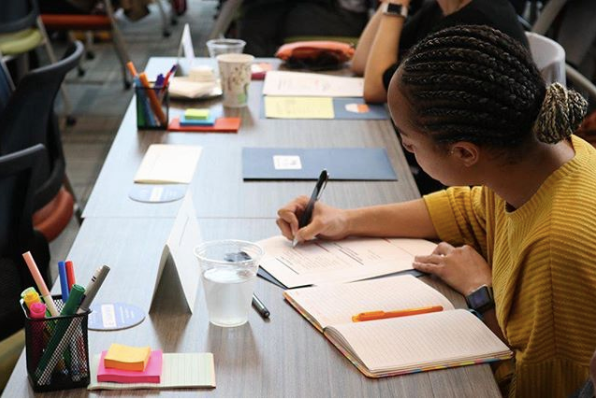 Tabb says even when Roots Of Music was getting its most fundraising, that there was never a solid plan for how to properly execute a growth strategy for the non-profit. The recent hire of Suzanne Raether as Roots' new Managing Director is a step to fix that. Raether has previously worked with Greater New Orleans Foundation, Louisiana Philharmonic Orchestra and the Music & Culture Coalition of New Orleans.
"The future for Roots for me is a stable, sustainable organization that lasts 25-50 years. It's amazing to have all the publicity we get, but unless we can actually sustain this program and make it financially solid, we're not doing our jobs," says Raether, "Even if our kids don't go on to be wildly successful musicians, it's been proven that those of us who have a music education from an early age can lead greatly successful lives. And it all goes back to teachings of discipline, rigor and ambition… in whatever industry you choose to enter."
When talking about how Roots can continue growth, Tabb says that expanding the program to include kids ages six to eight, and getting into the school system, are two major goals.
To learn more about The Roots Of Music organization and how you can get involved, visit: https://therootsofmusic.org