In partnership with Councilmember Freddie King III, District C, New Orleans & Company is hosting a Job Fest on Tuesday, January 31, 9 a.m. to 2 p.m. at the Treme Recreation Community Center.
Please note this is an in-person event only.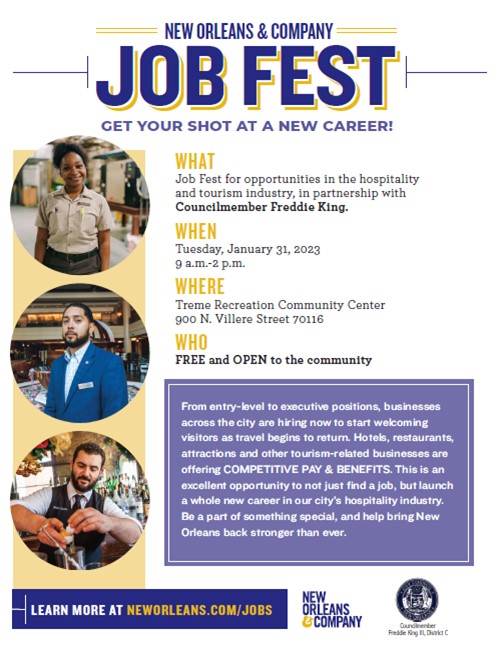 What:
Many companies are prepared to conduct in-person interviews onsite and make immediate job offers. Positions are available at all levels – from entry-level to executive – at hotels, restaurants, cultural attractions and much more.
Louisiana Workforce Commission will have their computer bus outside of the venue for those who want to fill out online applications on-site. 
When:
Tuesday, January 31, 9 a.m. to 2 p.m.
Why:
Finding talented people for hospitality careers is the number one priority for the New Orleans' tourism industry as we recover from the pandemic. That's why New Orleans & Company, the city's official destination marketing and sales organization, is hosting a Job Fest.
Where:
Treme Recreation Community Center, 900 N Villere St.
Street parking is available in the area. For more information on bus routes and services, visit www.norta.com.
Who:
Everyone is welcomed! Free and open to the community. This is an in-person event only. 
Dress for Success New Orleans is a free resource for women looking for professional attire and career development programs. Visit bit.ly/dfsno to schedule an appointment with Dress for Success before the Job Fest to be fitted for an interview attire for free!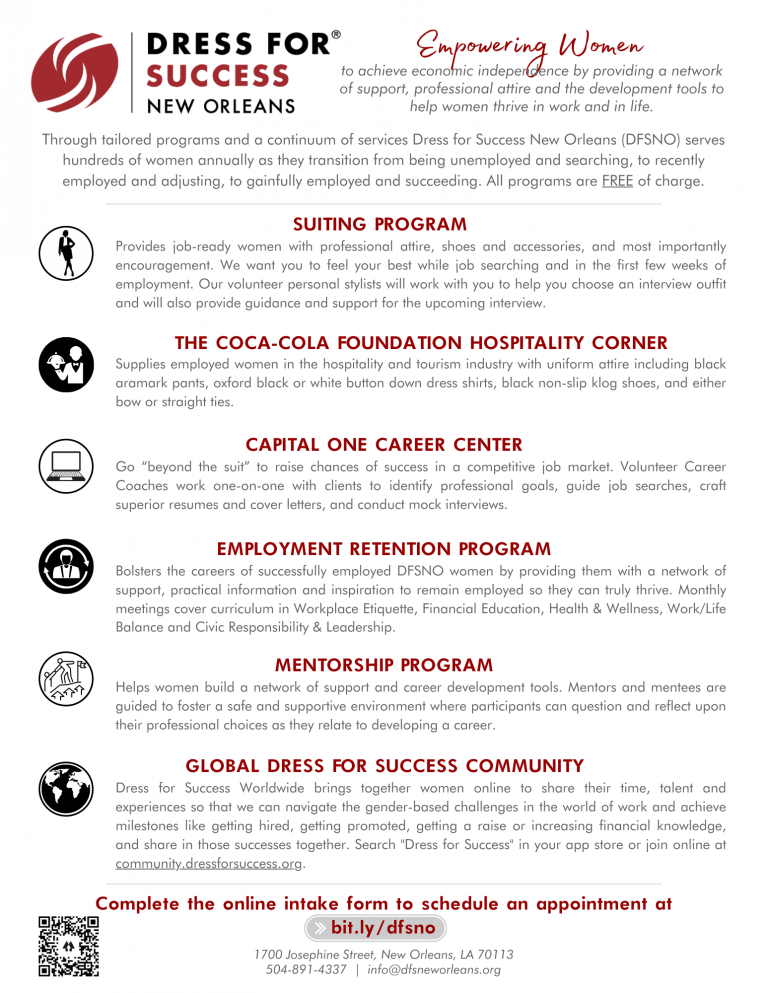 List of Participating Businesses and Employers: 
Company Name
Job Openings
Benefits
Ace Hotel

F&B Supervisor
Sous Chef
Culinary
Food and Beverage Servers
Hosts

Health, Dental and Vision benefits are effective on the date of hire.
Other benefits include 15 days of Paid Time Off and 2 days of Volunteer Time Off after 90 days, Paid Maternity/Paternity after 1 year and 401k with matching after 1 year.

ASM New Orleans 

Several part-time positions

 
Audubon Nature Institute
 
Boomtown New Orleans Casino & Hotel

Cook
Count Team Member
Dealer
Host /Cashier
IT Systems Administrator
Restaurant Asst. Manager
Restaurant Runner
Security Officer
Slot Floor Person
Table Games Assistant Shift Manager

Medical
Dental
Vision
Free Parking
401k
Discounted Meals in Cafeteria/Outlets

BRG Hospitality

All front and back of house restaurant positions.

Pay rage varies based on position and experience.
Benefits include Promotion from within, Paid vacation, Insurance Plan, Daily staff meals, Employee discount for dining.

Burton Transit 

Chauffeur
Special Event Driver
Intern
Dispatcher 

Commander's Palace 

Back Servers
Front Servers
Captain Servers
Food Runner
Line Cook
Seaters
Bartender
Valet
Stewarding & Housekeeping
Payroll & Benefits Accountant

 Line Cook (Up to $23 per hour)
Seaters ( Starting at $12 per hour)
Stewarding & Housekeeping (Starting at $14 per hour)
Payroll & Benefits Accountant (50k-75k per year)

Below are a list of averages including Tips

Back Servers ($14-$27 per hour)
Front Servers ($14-$27 per hour)
Captain Servers ($29- $41 per hour)
Food Runner ($15- $17 per hour)

Creole Cuisine Restaurant Concepts

Front of House:

Host
Servers
Bussers
Food runners
Bartenders
Bar Back
Managers

Back of House:

Dishwasher
Prep Cook
Line Cook
Managers

Hourly team from $13-$20 (based on position and experience)
Salaried leaders from $50K-$100K (based on position and experience)

Dickie Brennan &  Company

Line Cook
Production cook
Pastry Assistant
Host
Server
Server Assistant
Bartender

Pay is based upon experience
Family Meal Daily
PTO
Health insurance
Dental insurance
Vision insurance
Company paid life insurance
401(k) with a company match
Discounted parking
Flexible hours

Four Seasons Hotel & Private Residences New Orleans

Security Officer
Reservations Agent
Housekeeping Guestroom Attendant
Front Desk Manager
Pool Server
Restaurant Server
Server Assistant/Busser
Food Runner
Residential Engineer

Our Benefits:

Rewarding Work Culture
Excellent Mentoring, Training and Development Opportunities
World Class Medical, Dental, and Vision Insurance Program
Complimentary Stays at Four Seasons Worldwide after 6 Months
Holiday and Vacation pay (9 paid Holidays including Mardi Gras)
Complimentary employee meals prepared by the Four Seasons Culinary Team
Complimentary dry cleaning of employee uniforms
Discounted parking 
401k participation with a company matching program

Global Parking Systems

$15.00 hourly – $18.00 hourly

Goodwill Technical College
 
Higgins Hotel and Conference Center

Catering & Events Coordinator
Front Desk Agent
Front Desk Supervisor
Bartender
Server
Line Cook
Building Maintenance
Bell Staff
Housekeeping
Security and Loss Prevention
Barista

 
Holiday Inn Downtown Superdome

Guest Services Agents
Night Auditors
Restaurant Servers
Security Officers
Maintenance Engineers

 
Hotel Management of New Orleans 

Bell/Valet
Front Desk
Room Attendant
Sales Associate

 
Hotel Monteleone

Solaris Hiker
Garage Hiker
HR Admin Assistant
Wardrobe Attendant
Bellmen
Criollo Servers

 
Hyatt Regency

10 Manager level positions
 15 hourly staff position

Free room nights, Discounted and Friends & Family Room Rates
Medical, Prescription, Dental and Vision Insurance
401K with company match
Paid Time Off, Holiday Pay, new child leave and personal day
Paid Family Bonding Time and Adoption Assistance
Employee Stock Purchase Plan
Discounts at various retailers – Apple, AT&T, Verizon, Headspace and many more

 

JMH Companies

Valet
Cashier
Lot Attendant
Dishwasher
Enforcement Agent

 
Marriott

We have openings in every major field in the hotel from including:

Front Desk
Sales
Housekeeping
Banquets
Events
Engineering
Loss Prevention

There is a broad pay range and we offer comprehensive benefits.

New Orleans Aviation Board

Accounting
Equipment Operators
Human Resources
Electricians
Grounds Transportation Officers

 
New Orleans Police Department

Recruits: 40,391.00
Police Officers: 46,885.00

NOCHI- The New Orleans Culinary & Hospitality Institute

Educational opportunities in culinary and hospitality 

 
Omni Royal Orleans

Assistant Front Office Manager
Bartender
Line Cook
Prep Cook
Sous Chef

Health Benefits
Holiday Pay
Birthday Pay
Paid Time Off
401K
Free Lunch
Associate Recognition Program
Parking Discount
Tuition Reimbursement

* Please note some of the benefits above are available to fulltime associates only

Pigeon Catering

Part-time Banquet Staff
Event Manager
Bartender
Server/Busser
Dishwasher
Full-time Chefs

 

Banquet staff $18-$22 per hour
Chef $13-$20 per hour

Reconcile New Orleans
 
Roosevelt

Aesthetician
Banquet Houseperson
Banquet Kitchen Cook
Banquet Pantry Cook
Barista

 
Royal Carriages

Logistics Manager
Carriage driver / Tour guide

Logistics Manager: $15 – $20/hour
Carriage driver / Tour Guide: commission- and gratuity-based compensation. Current drivers earn between $35K and $90K annually. 

Royal Sonesta – New Orleans
 
Sheraton New Orleans 

Our average, non-tipped, starting wage is 15.00. 

The Ritz-Carlton

Front Desk Agent
Housekeeping Turndown Attendant
Fine Dining Server
Bellstand Attendant
Club Levet Attendant/Concierge
Lead Concierge-Club Level
Loss Prevention Manager
Housekeeping Attendant
Banquets Cook (III, II)

 
The Sazerac House

2Part-time roles available
5 Experience Ambassador openings
1 Retail Sales Associate opening

Both roles range from $14 to $21/hour
401k retirement account after working 500 hours
Free parking option

Waffle House

Managers $55K-$70K
Day Shifts
Stocks
Vacation
Great opportunity for advancement 

The Windsor Court
 
Wyndham Destinations

Several marketing positions
Sales positions
Business operations positions

Hourly + commission and bonuses.
Avg. $70k-120k
401(k)
401(k) matching
Dental insurance
Employee assistance program
Employee discount
Flexible schedule
Health insurance
Health savings account
Life insurance
Paid time off
Parental leave
Referral program
Tuition reimbursement
Vision insurance
*List of participating employers subject to change.