Laissez les bons temps rouler with a career in Hospitality and Tourism in 2020! New Orleans & Company is hosting its January Job Fest at Zulu Social Aid & Pleasure Club, 732 N Broad St. Join us on Wednesday, January 29, from Noon-3 p.m. Off the street parking will be available for guests to utilize. We have some of the top employers in the city's largest industry ready to hire great, enthusiastic people like you! More details are below.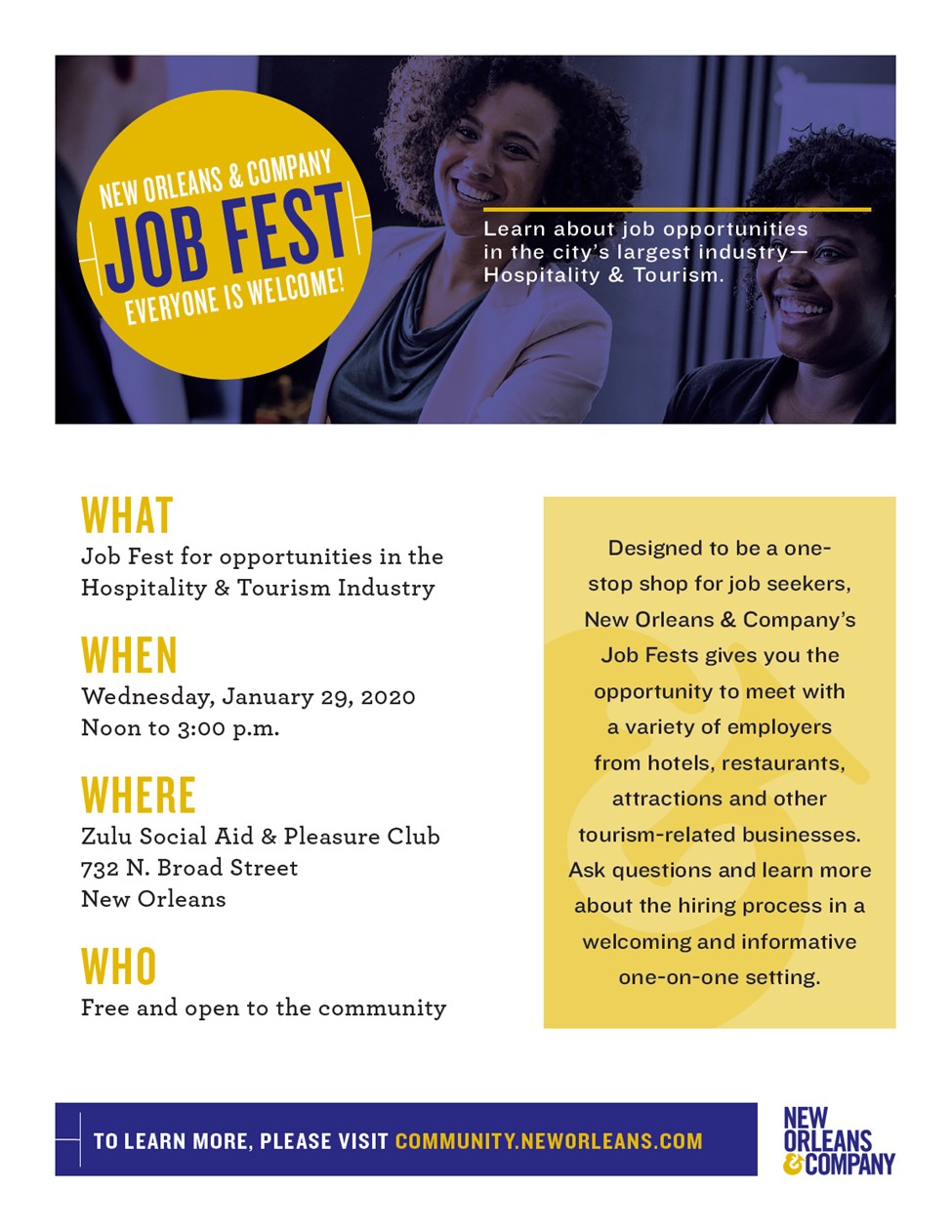 January Job Fest Details 
When: Wednesday, January 29, Noon-3 p.m.
Where: Zulu Social Aid & Pleasure Club, 732 N Broad St. 
Who: New Orleans & Company is hosting the event. Everyone is welcome to attend. 
Hilton New Orleans Riverside
Harrah's Casino
Goodwill Technical College
New Orleans Marriott
Housekeeping
Food and Beverage Outlet
Guest Service Fields
People Ready
InterContinental Hotel of New Orleans
Audubon Nature Institute
Concessions Team Member (PT)
Gift Shop Sales Associate (PT)
Guest Services Cashier (PT)
Guest Services Host (PT)
2020 Census NOLA Team
Waffle House
Hospitality Enterprises
J Hospitality
Live Nation
Delta Personnel
General Labor
Janitorial Staff
Administration Assistant
Banquet Servers
Bussers
Dishwashers
Cooks
Dispatch/Scheduler
Cleaning Supervisor
The Jung Hotel & Residences
The Whitney Hotel
The Bourbon Orleans
International House
Omni Hotel
AM Line Cook
Bellperson
Busser AM
Desk Agent
Director of Sales
Housekeeping House Person AM & PM
Sous Chef (Hourly)
Accounting Intern (Paid & Temp)
The Troubadour Hotel
Hilton Garden Inn New Orleans Convention Center
Front Desk Agent
Night Audit
Restaurant/Banquet Server
Bartender
Kitchen Steward
Cook
Higgins Hotel
Juan's Flying Burrito
Royal Carriages
Volunteers of America
Hyatt Regency
Hotel Management of New Orleans/City Sightseeing
McDonald's 
Orleans Parish Sheriff's Office
Commander's Palace
New Orleans Police Department (NOPD)
Temps Today Staffing
Amazon
Delgado Culinary and Hospitality Program
JMH Companies
Picnic Provisions & Whiskey
What: Designed to be a one-stop shop for job candidates, New Orleans & Company's Job Fest allows participants to meet with a variety of employers from hotels, restaurants and other tourism-related businesses. Participants can ask questions and learn more about the hiring process in a welcoming, one-on-one setting. New Orleans & Company's Job Fest is part of an effort to connect job seekers to careers in the hospitality and tourism industry across New Orleans. 
Why: In New Orleans, tourism provides thousands of satisfying jobs in fields like guest relations, finance, administration, housekeeping, food and beverage service and beyond. Each job offers an opportunity for growth to move up in a company while enjoying employee benefits and the peace of mind that comes with a steady paycheck. A job in hospitality and tourism – which can start by a visit to this Job Fest – is the basis for a lasting and fulfilling career in New Orleans.