We are on for round 2! If you missed our last Job Fest in January, don't worry. On Wednesday, February 15th from 11 a.m. until 2 p.m., we're hosting our February Job Fest at the Sanchez Center with Representative Jimmy Harris and Senator Jean-Paul "J.P." Morrell. We are bringing back our top employers from the tourism and hospitality industry, all of whom are looking for great, enthusiastic candidates just like you. They'll have all the application materials you'll need on hand. More details are below!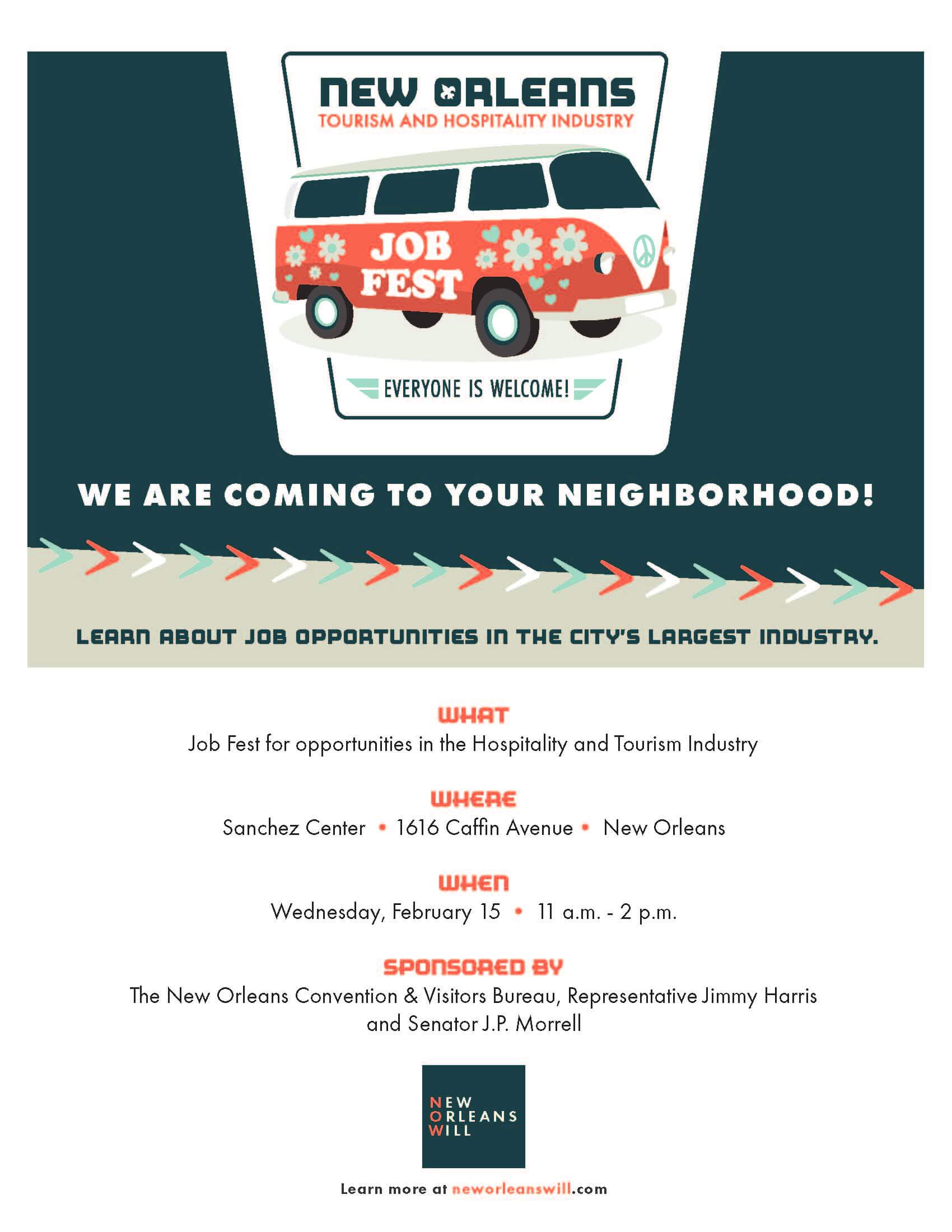 February Job Fest

When: Wednesday, February 15th from 11 a.m. until 2 p.m.
Where: Sanchez Center, 1616 Caffin Ave.
Who:  The New Orleans Convention & Visitors Bureau, Representative Jimmy Harris, and Senator J.P. Morrell are jointly hosting this event, which is open to anyone interested in participating. A sample of the employers participating include:
Le Pavillon
Shiftgig
NOPD
Hilton New Orleans Riverside
Hyatt Place New Orleans Convention Center
HRI Properties
Orleans Parish Sheriff's Office
Hotel Monteleone
Sheraton New Orleans
Hotel Management of New Orleans/City Sightseeing New Orleans
Creole Cuisine
What: Designed to be a one-stop shop for job candidates, Job Fest allows participants to meet with a variety of employers from hotels, restaurants, and other tourism fields. Participants can ask questions and learn more about the hiring process in a welcoming, one-on-one setting. The Job Fest is part of an effort across New Orleans to connect job seekers to careers in the hospitality and tourism industry.
Why: In New Orleans, tourism provides thousands of satisfying jobs in fields like guest relations, finance, administration, housekeeping, food and beverage service and beyond. Each job offers an opportunity for growth to move up in a company while enjoying employee benefits and the peace of mind that comes with a steady paycheck. A job in hospitality and tourism – which can start by a visit to Job Fest – is the basis for a lasting and fulfilling career in New Orleans.