New Orleans & Company is hosting a Job Fest on Wednesday, June 14, 3 to 6:30 p.m. at the Zulu Social Aid & Pleasure Club, 730 N. Broad St. 
Please note this is an in-person event only.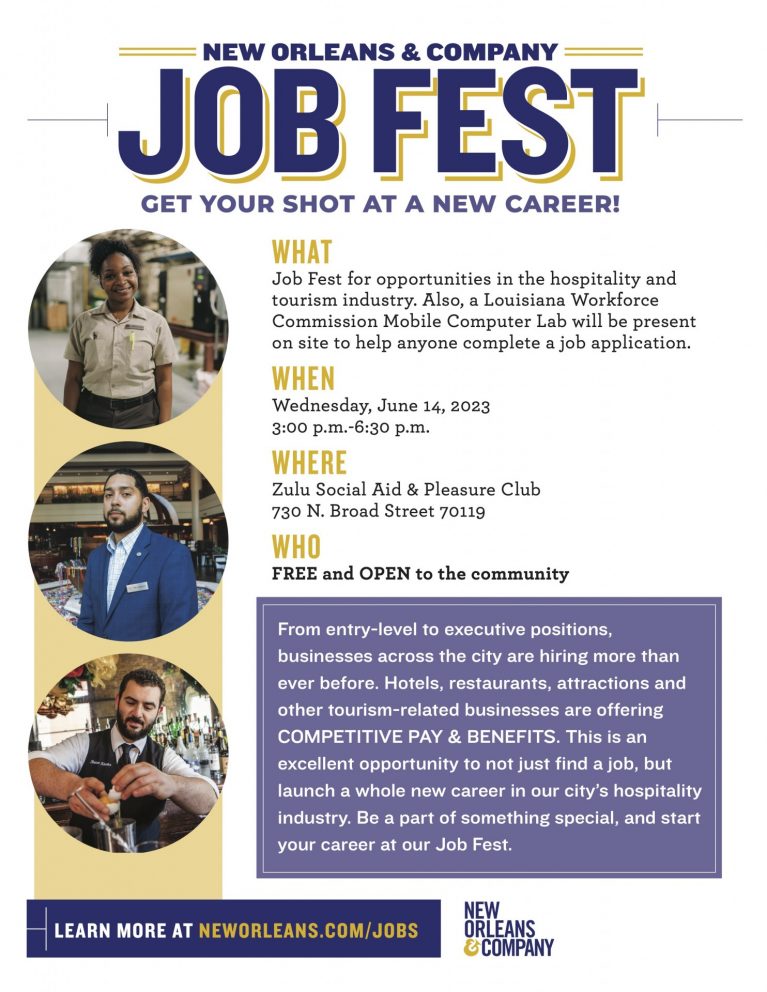 What:
Many companies are prepared to conduct in-person interviews onsite and make immediate job offers. Positions are available at all levels – from entry-level to executive – at hotels, restaurants, cultural attractions and much more.
Louisiana Workforce Commission will have their computer bus outside of the venue for those who want to fill out online applications on-site. 
When:
Wednesday, June 14, 3 to 6:30 p.m.
Why:
Finding talented people for hospitality careers is the number one priority for the New Orleans' tourism industry as we recover from the pandemic. That's why New Orleans & Company, the city's official destination marketing and sales organization, is hosting a Job Fest.
Where:
Zulu Social Aid & Pleasure Club, Roy E. Glapion Hall, 730 N. Broad St.
Street parking is available in the area. For more information on bus routes and services, visit www.norta.com.
Who:
Everyone is welcomed! Free and open to the community. This is an in-person event only. 
Dress for Success New Orleans is a free resource for women looking for professional attire and career development programs. Visit bit.ly/dfsno to schedule an appointment with Dress for Success before the Job Fest to be fitted for an interview attire for free!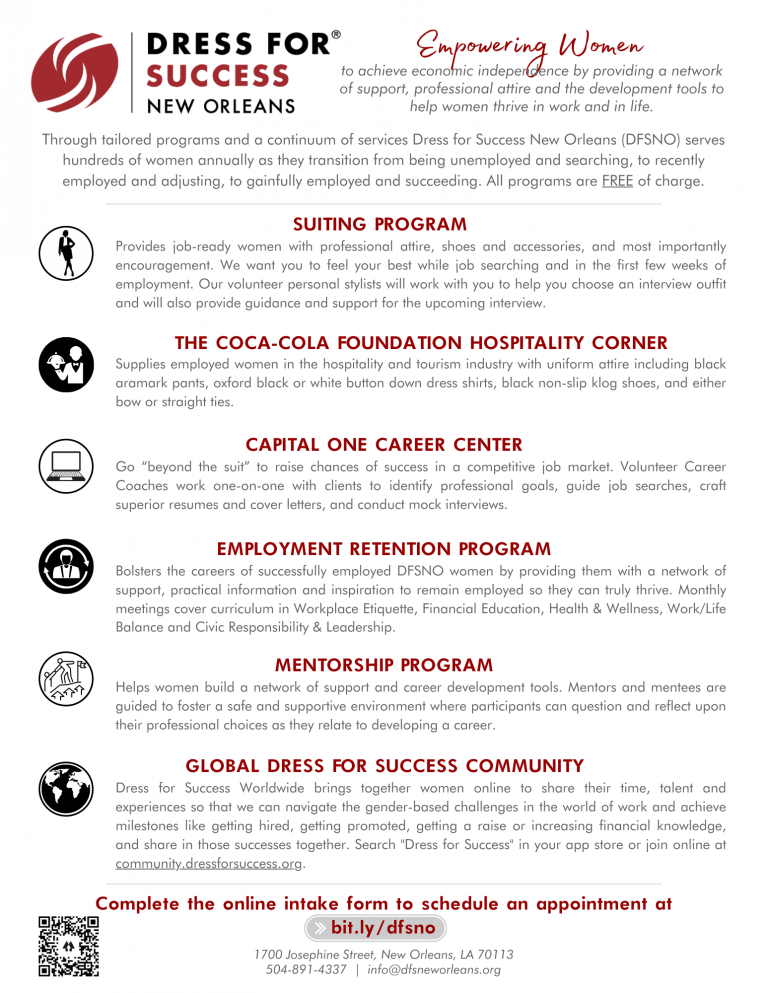 List of Participating Businesses and Employers: 
Company Name
Job Openings
Benefits
Ace Hotel New Orleans

Front Office
Line Cook
Kitchen Manager
Food & Beverage Training Manager

 
ASM New Orleans 

All part-time positions
Several full-time positions

 
Audubon Nature Institute
 
Dickie Brennan &  Company

Bartender
Catering Worker
Host
Line Cook
Production cook
Pastry Assistant
Server
Server Assistant
Warewasher

Dining Discount
Paid Time Off (PTO)
Health insurance
Dental insurance
Vision insurance
401(k) with a company match
Discounted parking for French Quarter restaurants
Flexible schedule

Goodwill Industries/ Goodwill Technical College
 
Goodwill SELA

100 available positions throughout the company.
We are hiring for our twenty-two retail store locations (New Orleans, Northshore and Baton Rouge):

Store managers
Assistant managers
Retail associates

Employment services (contract sites)

Custodian I & II
Grounds maintenance
Tractor operator
Zero turn operator

Corporate office positions need to apply online. 

Retail and Employment Services have a $500 sign on bonus.

Pay is dependent on position.

Medical, Vision and Dental

100 % company paid life insurance for full and part time employees.

Free-Employee Assistance Program

Hotel Management of New Orleans 

Bell/Valet
Front Desk
Retail Agent

 
JMH Companies

Premium Parking:

Valet Attendants
Lot Attendants

Admiral Enforcement:
Mahony's Po-boys & Seafood:

Line Cook, Server
Premium Facility Services – Maintenance Foreman

Positions will vary greatly from $7.25/hr – $26.00/hr based on company.

Full-time positions are eligible for medical, dental, vision insurance; PTO.

All positions are offered paid training and advancement opportunities across the company and US.

New Orleans Police Department

Police Recruits
Police Officers

Recruits: 42,449.00
Police Officers: 49,273.00

Omni Royal Orleans

Barback
Bartender
Cocktail Server
Houseperson
Line Cook
Night Auditor
Prep Cook

Orleans Parish Sheriff's Office

Deputy Corrections Officers

18.00 Per Hour
Medical, Dental and Vision
State Retirement Benefits

Reconcile New Orleans

Current workforce development program with open enrollment.
Only eligibility requirement is age between 16-24 years old.

Café Reconcile is a free, paid job training program for youth ages 16-24 years old in the New Orleans and surrounding areas that equips them with the tools to achieve their potential while also offering free meals, transportation, a competitive stipend, and other wrap around services.
Our goal is to help young adults develop the tools and confidence to chase their dreams!

Royal Sonesta – New Orleans

Culinary
Front Desk
Housekeeping

 
Sheraton New Orleans 

Assistant Food and Beverage Manager
Executive Steward
Events Manager
Guest Environment Expert
General Accountant
Loss Prevention Officer
Server

 
True Focus

Administrative Assistant
Convention Security
Convention Staffing
Convention Supervisor

 *All of our positions are customer service-based convention-related services. None of our positions are food or environmentally related positions.

The base rate is $12 for all positions
The supervisor base rate is $14
The Administrative Assistant base rate is $14 (must be willing to travel the full cost of travel is covered), and must have a valid Driver's License. Parking is covered as well.
We offer full fringe benefits for employees working full-time hours.
We offer referral and performance-based bonuses.
Must be able to pass a background check for all positions.

Tulane Dining Services by Sodexo

Barista
Cashier/Food Service Worker
Cook
Coordinator
Environmental Services Attendants
Food Supervisor
Human Resources Assistant
Retail Cashier
Utility Worker
WOW-Late Night Grill Cook
WOW-Late Night Fry Cook

All positions start at $15.00 per hour
Full-time employees qualify for:

401k matching program
Complimentary meal during working shift
Laundered Uniform program
Non-slip Shoe program
Employee assistance program
Career advancement opportunities
Paid Time Off: Vacation/Sick Time
Sodexo Scholars Program
LifeWorks Program
Health/Vision/Dental Benefits
Short / Long term disability
Life insurance

Virgin Hotels New Orleans

Barback
Bartender
Bellperson
Guest Services Agent
Host
Line Cook
Server

Barback – $9.43
Bartender – $9.82
Bellperson $10.80
GSA – $15.91
Host – $14.42
Server – $8.12 plus tips
Line Cook – $16-19
*List of participating employers subject to change.