Restaurants are a part of the hospitality industry, so showing exemplary care and service toward the patrons is all a part of doing business. But Taste Buds Management, the group behind three beloved local eateries, is taking that sense of hospitality beyond the confines of their restaurants and into the local community. With the spirit of Thanksgiving and the holidays in mind, Taste Buds Management will volunteer with the St. Bernard Project on Saturday, Nov. 28.
"At Zea [Rotisserie & Grill], Semolina, and Mizado, our purpose is to emotionally connect with each of our guests," says corporate training manager Bobby McKinney. "There are a lot of ways to do that, and we make sure that everything we do is done with genuine care for our guests. We're not doing anything heroic, but we understand that we have the opportunity and the responsibility to truly make a difference in people's lives," he says.
McKinney says that the opportunity to make a difference isn't limited to restaurant guests, although Taste Buds – a bastion of the local restaurant business since 1990 — has certainly served its share of customers over the past 25 years. However, he says, "it's not enough to focus only on the guests who walk in our doors." By volunteering, McKinney says that Taste Buds employees "are able to extend our passion for service beyond our four walls and make life just a little bit better for so many more."
New Orleans has so many wonderful non-profit organizations like Liberty's Kitchen, Café Reconcile, and Dress for Success to name just a few, but the St. Bernard Project, in particular, holds special meaning for the Taste Buds group. The organization seeks to ensure that disaster-impacted citizens and communities recover as quickly and efficiently as possible.
"I love that St. Bernard project has taken the opportunity to expand its reach to other disaster-stricken areas across the country," McKinney says. "Ten years after [Hurricane] Katrina, there is still so much work to do in New Orleans, but they know that it's not enough to focus solely on what is in front of them — they have the ability to help so many more people, and they have fully embraced that opportunity."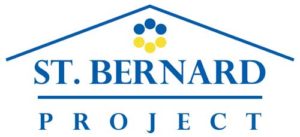 Though the final details of Taste Buds' volunteer day are still undetermined, McKinney says it will be a full and satisfying Saturday in a multitude of ways. "Whether we are painting, sweeping, hammering, landscaping, or anything in between, we are very excited to work with the St. Bernard project."
To donate, volunteer, or simply learn more about the St. Bernard Project, you can visit their website, http://www.stbernardproject.org/. Visit Taste Buds Management website to learn more about their business and even browse career opportunities.