Mali Carow is the new General Manager at the Four Seasons Hotel and Private Residences New Orleans. She is overseeing "one of the largest hotels in the company's portfolio," as described by the Four Seasons. In anticipation of its opening next year, we reached out to Mali to talk about how she got started in her career, advice she has for those interested in applying for a job at the new hotel, and some exciting features that both residents and visitors can enjoy.
How did you get started in your career in hospitality?
I first joined Four Seasons over 20 years ago as a server at our Chicago property – it was a means to pay for college. I quickly fell in love with the fast paced environment and energy of a restaurant, and Four Seasons showed me I could make a career out of it. I was hooked. My career has taken me to Washington, DC, California, The Maldives, Jordan, London and now New Orleans. With a hospitality career we are able to see and experience so much of the world in ways that many people cannot.
What advice do you have for those looking to begin their career in the industry?
A hospitality career is full of possibility. At Four Seasons, if you bring a positive attitude and strong work ethic, we will teach you the skills to grow and have a rich, fulfilling profession.
What are you most excited about working in New Orleans?
We are building a hotel for the city of New Orleans by the city of New Orleans. Our strong Four Seasons culture rooted in the Golden Rule coupled with the warmth and vibrant energy of the people of New Orleans is a marriage I am excited to bring to life.
Can you explain the importance of Four Seasons opening in New Orleans and becoming part of our riverfront development?
It has always intrigued me that we are a city built because of the river, but we do not have many places to enjoy the river in the city. We will change this with our 5th floor restaurant and pool deck that will offer indoor and outdoor dining overlooking the river and Spanish Plaza. Our two ballrooms will also have floor to ceiling windows overlooking the river, inviting the outdoors  inside where we will host the people's biggest celebrations with the Mississippi serving as a backdrop. Additionally, we will have a spa like no other in the city offering luxurious services and a whole new level of relaxation, detoxification and rejuvenation.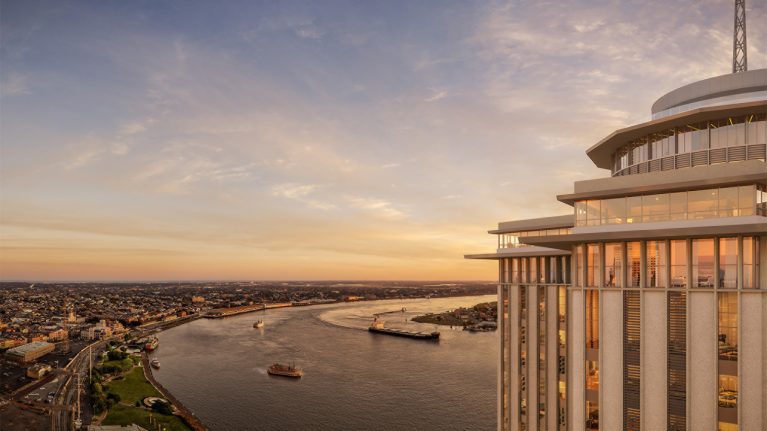 What are some other exciting features that guests and residents will experience once the Four Seasons New Orleans opens?
As one of the largest Four Seasons in the US, we will feature 341 guestrooms, expansive event space with sweeping views of the Mississippi, two chef led restaurants, and a culture exhibit on the very top of the building offering a birds eye view of our historic city.
The Four Seasons plans to hire 500 staff members. When do you plan on starting the hiring process and how can residents apply?
We have begun hiring a handful of positions and will continue to hire in phases. We expect many positions to become available in Q1 and they will be posted on our website.