New Orleans Convention and Visitors Bureau is hosting its March Job Fest of the year. Join us on Wednesday, March 21st, from noon until 3 p.m. for our March Job Fest at Treme Center. We have top employers in the city's largest industry ready to hire great, enthusiastic people like you! More details are below.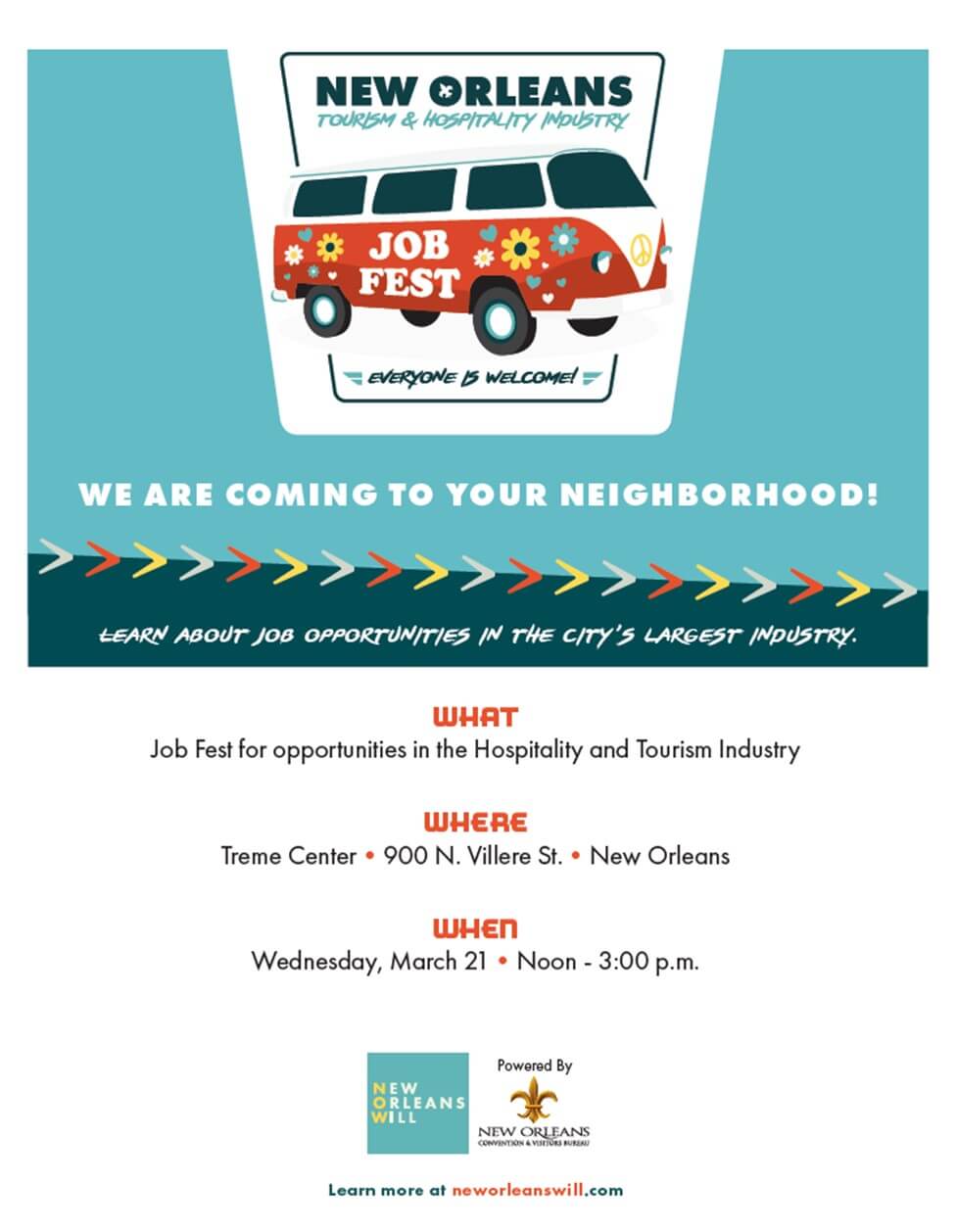 Job Fest Details 



When: Wednesday, March 21, from noon until 3 p.m.
Where: Treme Center, 900 N. Villere St., New Orleans, LA 70116
Who:  The New Orleans Convention & Visitors Bureau is hosting the event and everyone is welcome to attend. List of some of the participating employers are below.
Audubon Nature Institute 
Guest Services Cashier (Zoo and Aquarium)
Guest Services Cart Attendant (Golf Clubhouse)
Guest Services Host (Aquarium)
Entrance Liaison (Insectarium)
Gift Shop Cashier (Zoo and Aquarium)
Concessions Worker (Zoo and Aquarium)
Catering Worker (Zoo and Golf Clubhouse)
Centerplate
Dickie Brennan & Company
GOPark
Entry-Level Valet Runners
Mid-Level Property Managers
Mid-Level Area Managers
Harrah's
Restaurant Supervisors (Fine Dining & Casual)
Restaurant Servers (Fine Dining & Casual)
Restaurant Host/Hostess
Culinary Cooks
Hotel Front Desk Agents
Hotel Housekeeping Room Attendants
Heavy Duty Cleaners
Holiday Inn
Cook
Bartender
Bellperson
Housekeeping Supervisor
Room Attendants
Hospitality Enterprises New Orleans
New Orleans Tours: Body Shop Tech, Detailer, and Motorcoach Driver
Creole Queen: F & B and Deckhands
Airport Shuttle: Greeters, Ticket Agents & Cash Audit
Hotel Management/City Sightseeing
Housekeeping
Houseperson
Bellstaff/Valet
Front Desk
Bus Drivers
Hotel Monteleone
InterContinental Hotel
Food & Beverage:

Room service Server (Overnight)
Busser
Restaurant Server (PT)

Banquets:
Culinary:

Jr. Sous Chef (Hourly)
Banquet Cook
Pastry Supervisor (Hourly)
Kitchen Store Room Attendant
Line Cook

Housekeeping:
Engineering:

Laundry HVAC
General Maintenance
Engineering Supervisor

Security:
Louisiana Restaurant Association
New Orleans City Park
Full-Time Positions:
Part-Time/Season Positions:

Birthday Part Attendant
Porter
Ride Operator
Tolmas Center Attendant
Bartender
Busser
Server
Station Chef
Concessions Team Lead
Guest Services Attendant
New Orleans Hotel Collection
New Orleans Police Department
Orleans Parish Sheriff Office
Pelican New Orleans
Royal Carriages
Carriage Driving Tour Guides
Sysco
Tonit Properties, Four Points by Sheraton
Room Attendants
Valet
Houseman
Banquet Houseman
Dishwashers
Bussers
Why: In New Orleans, tourism provides thousands of satisfying jobs in fields like guest relations, finance, administration, housekeeping, food and beverage service and beyond. Each job offers an opportunity for growth to move up in a company while enjoying employee benefits and the peace of mind that comes with a steady paycheck. A job in hospitality and tourism – which can start by a visit to Job Fest – is the basis for a lasting and fulfilling career in New Orleans.

What: Designed to be a one-stop shop for job candidates, Job Fest allows participants to meet with a variety of employers from hotels, restaurants, and other tourism fields. Participants can ask questions and learn more about the hiring process in a welcoming, one-on-one setting. The Job Fest is part of an effort to connect job seekers to careers in the hospitality and tourism industry across New Orleans.
*List of employers are subject to change