The former New Orleans Convention & Visitors Bureau (NOCVB) has rebranded and is now officially known as New Orleans & Company – a name that better reflects the work that we do and the people we serve. Click here to learn more about our new brand. 
New Orleans & Company is hosting its May Job Fest of the year. Join us on Wednesday, May 23rd, from noon until 3 p.m. for our May Job Fest at Zulu Social Aid & Pleasure Club. We have top employers in the city's largest industry ready to hire great, enthusiastic people like you! More details are below.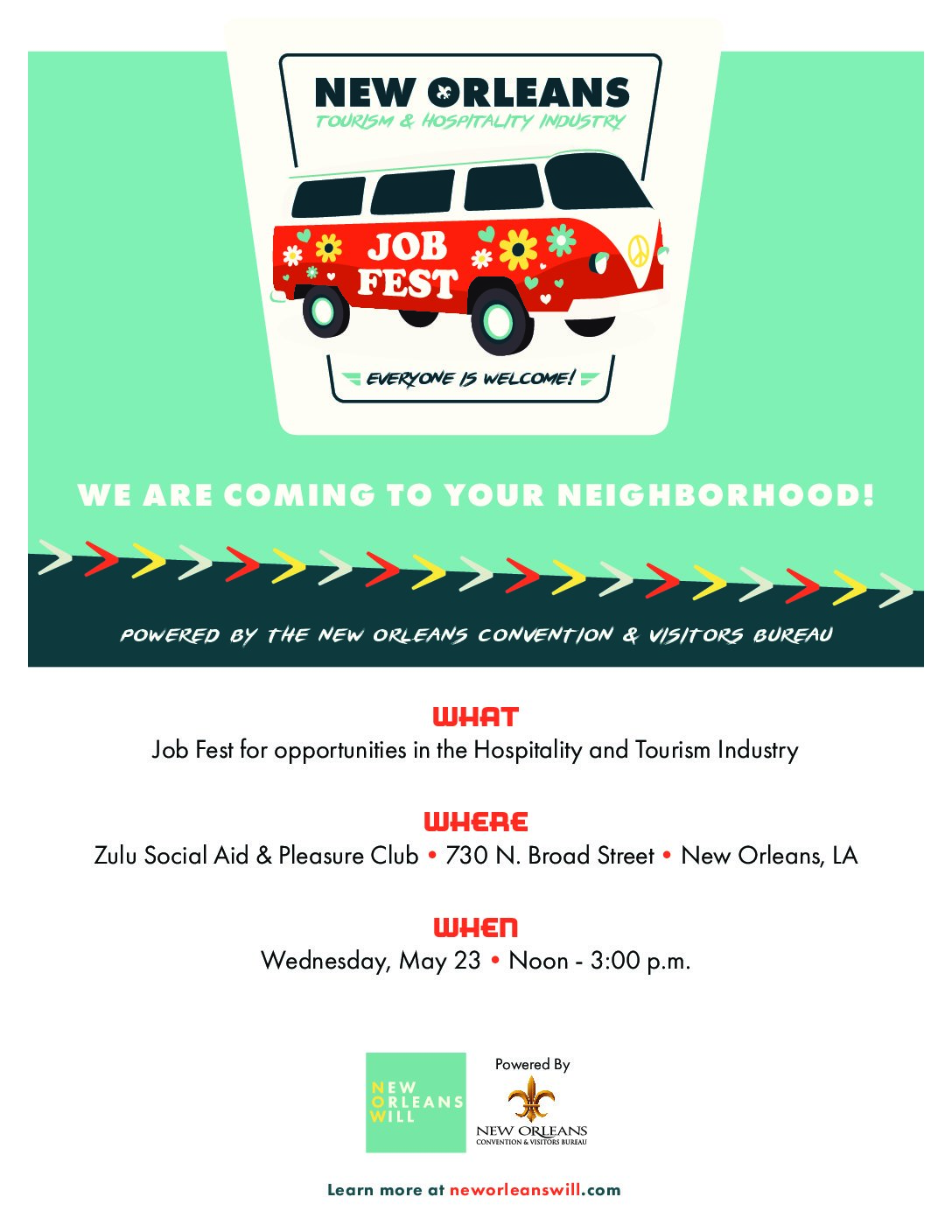 Job Fest Details 



When: Wednesday, May 23, from noon until 3 p.m.
Where: Zulu Social Aid & Pleasure Club, 730 N. Broad Street, New Orleans, LA 70119
Who: New Orleans & Company is hosting the event and everyone is welcome to attend. List of some of the participating employers are below:
NOLA Hotel Group
Management
Revenue Analyst 
Front Desk 
Night Auditor 
NOLA Hotel Group – St. Pierre & Andrew Jackson Hotel
NOLA Hotel Group – St. James Hotel
NOLA Hotel Group – The Quisby
Maison Dupuy Hotel
Dickie Brennan & Company
HRI Properties
Louisiana Restaurant Association
Hilton Garden Inn – New Orleans Convention Center
Eng/Maintenance 2nd class
Restaurant Manager
Assist. Exec Housekeeper
JMH Companies
Host (Mahony's Po-Boys)
Cook (Mahony's Po-Boys)
Bartender (Mahony's Po-Boys)
Server (Mahony's Po-Boys)
Valet (Premium Parking)
W Hotel
People Ready
Pelican Hospitality
Audubon Nature Institute
Job 1
Creole Cuisine
Waffle House
Management
Servers
Grill Operators
Orleans Parish Sheriff's Office
Royal Carriages
Hotel Monteleone
McDonald's
EMR
Centerplate
Banquet Server
Bar-back
Bartender
Barista
Cook 1
Executive Sous Chef
Kitchen Workers
Sr. Hospitality Manager
Steward
Sous Chef III
Warehouse Worker
New Orleans Hotel Collection
Hospitality Enterprises
Hotel Management of New Orleans
Holiday Inn Downtown Superdome
Cook
Dishwasher
Housepersons
Room Attendants
Intercontinental Hotel
Hilton Riverside
International House Hotel

What: Designed to be a one-stop shop for job candidates, Job Fest allows participants to meet with a variety of employers from hotels, restaurants, and other tourism fields. Participants can ask questions and learn more about the hiring process in a welcoming, one-on-one setting. The Job Fest is part of an effort to connect job seekers to careers in the hospitality and tourism industry across New Orleans.

Why: In New Orleans, tourism provides thousands of satisfying jobs in fields like guest relations, finance, administration, housekeeping, food and beverage service and beyond. Each job offers an opportunity for growth to move up in a company while enjoying employee benefits and the peace of mind that comes with a steady paycheck. A job in hospitality and tourism – which can start by a visit to Job Fest – is the basis for a lasting and fulfilling career in New Orleans.

*List of employers are subject to change