Krewe of Orpheus is one of the newest krewes, but it's also one of the most popular. With entertainer Harry Connick, Jr. as one of its founding members and plenty of celebrity float riders (this year includes country singer Dierks Bentley and the cast of NCIS: New Orleans), Orpheus is among the most anticipated parades of the season. We spoke with Sonny Borey, a founding member of Orpheus, about his involvement with the krewe (he's currently the captain) and his role as chairman of the Mayor's Mardi Gras Advisory Committee. As Connick, Jr.'s former drama teacher, Borey knows a thing or two about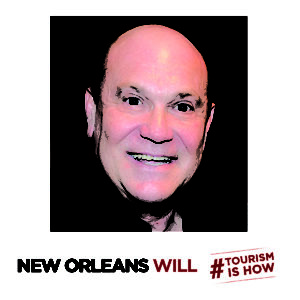 putting on a show. "Parades," he says, "are basically theater on wheels." Read more about Sonny Borey and the Krewe of Orpheus below!
How long have you lived in New Orleans?
All of my life.
What do you love most about Mardi Gras?
That it's a family holiday. Unfortunately it's a fact that escapes the majority of mainstream media, but the tradition of entire families camping out on the neutral ground waiting for parades and masking as groups – I think that's great!
Tell us about your involvement with the Krewe of Orpheus.
Harry Connick, Jr. had reigned as Bacchus in 1993 and he enjoyed the experience but saw an opportunity to create something more inclusive and diverse so he called me. I had been Harry's high school drama teacher so I guess he figured I knew how to put on a show, and parades are basically theater on wheels. We got together and decided what we wanted the krewe to be.
On one hand, we bucked tradition and invited people from all levels of the New Orleans community to join; all races and both sexes would be welcomed. On the other hand we wanted to keep a traditional feel with classical themes and an artistic direction by Derek Franklin that mirrored those set down by the old line krewes.  We assembled a group of friends with a wide variety of expertise, called  Kern Studio, and began negotiations with City Council for a permit.
What experiences stand out for you as captain of the Krewe of Orpheus?
The joy in the faces of my krewe members, the people along the route, and the guests of the Orpheuscapade. The excitement and energy of that entire day and night – there are no words – it's a fitting reward for the  work we do all year long.
As Chairman of the Mayor's Mardi Gras Advisory Committee, what additional roles do you play during Carnival season in New Orleans?
I, along with other krewe captains, work  to ensure standards are maintained for all krewes parading in New Orleans.  We help craft ordinances that we feel will improve Mardi Gras and have measures in place to keep it safe. This year we were responsible for the premiere of Carnival in the Square providing great music in Lafayette Square the first weekend of Mardi Gras. We also facilitate Krewes for Kops, a fundraising source for needs of the New Orleans Police Department to which they would not normally have access.
What is your favorite Mardi Gras memory?
I have so many, but the one that sticks out for me is the first ride after Katrina. Traditionally the energy on the route is kind of frantic with people jockeying for positions and fighting for throws, but in 2006 no one was clamoring for beads. People stood along the route holding up signs thanking us for parading and applauding. It was very emotional.
What would you like to see New Orleans accomplish in the future?
I have faith that our city will continue to move forward. After what we've faced and the recoveries we've made I'm confident we can bounce back from anything.
What do you love most about this city?
The international atmosphere  and the ability to bring a party to every aspect of life.
What should visitors make sure to do/see while in New Orleans for Mardi Gras?
The Krewe of Orpheus parade, of course!
NEW ORLEANS WILL…
Bring the celebration!