When people think New Orleans, they think arts and culture. That's no accident. Events within our city like Prospect.3 amplify our incredible arts scene by showcasing world-renown talent – much of it local. One such local talent is visual and performance artist Tameka Norris, whose work is part of the biennial. We sat down with Ms. Norris –a graduate of both the UCLA School of Art and Architecture and the Yale School of Art – to discuss her thoughts on New Orleans.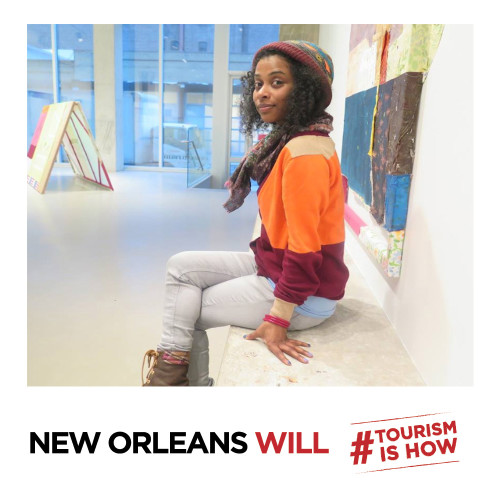 How long have you lived in New Orleans?
I have lived in New Orleans since September of 2012. I grew up mostly in the Gulfport, Biloxi, and Pass Christian areas, but then moved away and was gone for seventeen years, and now I've been back for two years.
What do you love most about your work?
What I love most about my work is that I am able to interact with communities and listen to the stories of others. My work can make real impact and change in communities and within myself by thinking about progress. For example, the last bodies of work that I made in New Orleans, I employed young black artists either as my assistants or as technicians to do sewing, painting, or helping with administrative duties associated with being an artist, which gives a lot of these aspiring artists the experience to know what is required and all the work that goes into being an exhibiting artist.
Why is the art scene in New Orleans so unique?
There are different types of art worlds that exist simultaneously. Like the difference between the Lower East Side and Chelsea in New York, here you have the difference between the St. Claude arts district, which is run by artists, and the Julia Street galleries which is more like Chelsea. In addition, we have artists who are not engaged in any type of gallery dialogue. They are simply artists making works in their homes that may or may not be shown or exhibited.
How does your status as a national and international artist benefit our city?
I think just my presence; just my choosing to live here as opposed to living in a more artistically appropriate city like New York or Los Angeles or Berlin or London or Houston; just the presence, I believe, of a young woman of color with an Ivy League degree who is exhibiting nationally and internationally, and young artists having exposure to that, in particular young artists of color. I teach at Dillard University and Xavier University which are both historically black colleges here in New Orleans. Their access to an artist like myself, seeing the possibilities, I believe in and of itself is a benefit to the city.
How does our thriving tourism industry affect artists of our city?
A draw of New Orleans artwork is that it is very specific and characteristic. I don't know that people would buy New York art. New Orleans art is something. It has particular characteristics.
What would you like to see New Orleans accomplish in the future?
I would like to see New Orleans accomplish tackling the issues of food apartheid in the city, which I believe would allow and sustain families that originally lived here before Katrina to be and stay here and afford to be and stay here and be healthy. So more urban farming run by the people of the community being empowered and liberated to grow and farm their own food.
What do you love most about this city?
For me, I really love that this city reminds me of my childhood. It reminds me of girlhood. I love the fact that New Orleans is changing and thriving, and I'm hoping that the changes and the thriving will continue to happen and will also be nurturing and fostering the development of the younger generation, particularly the young people of color in the city.
NEW ORLEANS WILL…
Support urban agriculture. The Meka Jean project, my work, is a film installation that has ongoing and changing partners. A new partner is SUA, Supporting Urban Agriculture, where I will be working with an urban farmer in the Lower Ninth Ward to sustain and create vegetables and food for the Lower Ninth Ward in particular and hope that it grows into a larger organization that is helping to provide food for the city as a whole.