As a part owner of the popular jazz bistro and restaurant Snug Harbor, Wesley Schmidt understands one of our biggest assets in New Orleans: the music. In addition to his role as part owner, the position also requires finesse in event planning, event management, and even music production. Work doesn't feel like work, however, when you love what you're doing and where you're doing it. "There's no other place like it, and that's a fact," he says of New Orleans. Check out more of our interview with Wesley Schmidt below.
How long have you lived in New Orleans?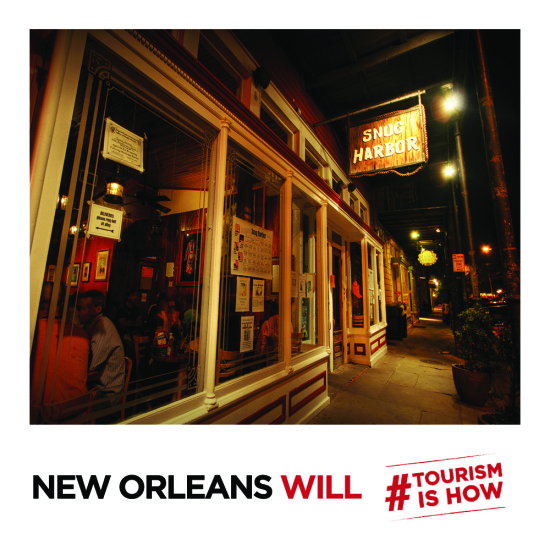 All my life. Born and raised in Gentilly.
What do you love most about your work?
Remaining an active part in the music scene.
What would you like to see New Orleans accomplish in the future?
I'd like to see New Orleans become more of a resource for the people who live here and have always lived here, and want to continue making their living here. The musicians and the service workers especially.
What do you love most about this city?
The funk. There's no other place like it, and that's a fact.
New Orleans is a small city with big city assets. With this in mind, what makes New Orleans stand out from big cities like New York, Chicago, San Francisco, etc.?
If you think about New Orleans compared to these other cities, New Orleans seems a lot like St. Louis or Nashville in that there is a regional, specific culture that large cities tend to amalgamate into some form of bigger, larger, or universal culture. New Orleans, for a long, long time managed to maintain its regional identity, its sense of self. The food, the music clubs, the arts, and the architecture maintain a regional character here that you can't get in other cities.
New Orleans' music is one of our biggest assets, known all over the world. How does being internationally known benefit our city and affect tourism in New Orleans?
People come from all over to listen to New Orleans jazz and eat New Orleans food– it not only brings revenue to our city, but it also introduces New Orleans locals to other walks of life. Also, it seems like the tourists coming in from outside of the United States – generally – are in New Orleans for a different reason. It's a Mecca of sorts, a way to connect with something – not just a place to drink and party, but a city with deep historic roots.
Even though New Orleans population is less than 400,000, it has the amenities of a city with one million residents because of New Orleans' annual visitor traffic. What does it mean for locals to have access to these big city assets, like a world-class zoo, dozens of museums, award-winning restaurants, music venues and cultural attractions?
These attractions preceded the tourism industry, their improvement wasn't fueled by tourism, it was fueled by the interests of people who live here. Snug Harbor is an excellent example: when it was opened, we were there too early for the tourism industry, so it turned into a place where locals could come for good music and good eats. Today, we absolutely rely on a mix of tourist and local dollars – tourism dollars are not the exclusive source of our city's assets, but they help.
What big city luxury do you enjoy the most about living in New Orleans (museums, theaters, restaurants, etc.)?
The food, the restaurants – without a doubt.
With more than 80,000 workers, the tourism industry is New Orleans biggest employer. What would be your advice to someone preparing for a career in the tourism industry?
Stay healthy, have fun.
What role do you feel the tourism industry plays in providing employment for musicians and staff members of Snug Harbor? How many people do you employ?
We employ at least 30 food and beverage staff – then at least 30 musicians per week. Tourism industry brings more traffic, helps keep the lights on.
NEW ORLEANS WILL… Survive!