A dying phone battery is often cause for panic, but for the founders of MobileQubes, it was also an opportunity. After one too many dead phones, MobileQubes founders set out to develop an on-the-go charging method for smartphones.
The result, MobileQubes, is an exciting entrepreneurial endeavor in New Orleans poised for expansion: users can purchase their own charging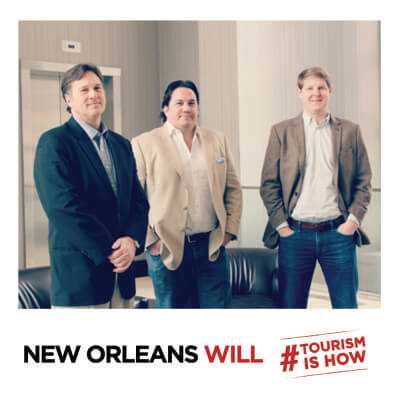 Qube or simply rent one as needed from a kiosk available at locations like the airport and Harrah's Casino.
"Some customers … told us they were pleasantly surprised to find such a new and interesting piece of technology coming out of a historic place like New Orleans," the MobileQubes team tells us – but with New Orleans Entrepreneur Week right around the corner, we're not surprised one bit.
Learn more about the MobileQubes team and the impact of tourism on their innovative product below.
How long has the MobileQubes team been in New Orleans (including the time before the company was founded)?
Our team comes from a variety of backgrounds. Co-Founder and CEO Sean Carrigan moved to New Orleans from New York City in 2011 as part of the adverCar founding team. After adverCar moved its headquarters to San Francisco in 2012, Sean stayed in New Orleans and began developing MobileQubes.
Jason Palmer was born and raised in Baton Rouge and attended LSU where he studied bio-medical and mechanical engineering. After college, he moved to New Orleans and began working for Abbott Labs. In 2012, he joined the MobileQubes team as a co-Founder and Chief Technology Officer.
Mike Melito was born and raised in New Orleans. After attending Loyola University, he started his career in the technology space with Sharp Electronics. After a number of years there, he became the first Nextel operator in Louisiana and built his company up over a 14-year period before exiting in 2012. Mike then joined MobileQubes as co-Founder and President, bringing his expertise in the wireless space and business building to the team.
What inspired the startup of MobileQubes?
Sean Carrigan was out for drinks at a bar in the Warehouse District in New Orleans one night back in 2012. He was waiting to hear from friends who were planning to join him, but his phone was dying and he didn't have a charger with him. Reluctantly, he asked the bartender if he could charge his phone at the bar, but he said no. Looking back, it's probably a good thing, because that experience later prompted Carrigan to co-found MobileQubes, a portable charging battery system for smart phones and tablets.
After that night, Carrigan began doing research and found that this was an existing problem for consumers. He wanted to create a solution. So, he and Jason Palmer sat down at his kitchen table and started brainstorming. They drafted some sketches that led them to the MobileQubes model that is now on the market. The sketches now sit near their first prototype model in their office in the New Orleans BioInnovation Center.
How has the existence of MobileQubes positively affected visitors and locals in New Orleans?
We like to think that we are helping both locals and visitors stay connected while they enjoy all that our city has to offer. There is nothing worse than being out in the French Quarter, or at a Pelican's game, or trying your luck at Harrah's Casino and realizing your phone is down to the last few precious percentage points of battery life.
Before MobileQubes, customers had to plug into a wall or go back to their hotel room, or just soldier on without the peace of mind of being able to use their devices. Now, all they have to do is walk up to a MobileQubes kiosk, and in seconds they have their portable charging solution and can stay connected with friends and family as they enjoy New Orleans.
Do you have a story that stands out about situation when MobileQubes really helped someone?
We get these types of testimonials all the time actually. It is further validation that smartphone users have a problem staying charged when they need it most.
One story in particular actually happened not too long ago. MobileQubes had partnered with Voodoo Fest to provide portable power to the over 100,000 fans who attended this past year. The feedback from the festivalgoers was overwhelmingly positive, but one customer contacted us days after to personally thank us for bailing her out of a bad situation. She was from out of town and staying with friends but had become separated from her group. To make matters worse, her phone had died and the address of the friends' house where she was staying was saved on the phone. The young woman said she was in a panic as the festival grounds were being cleared out for the night, until she found the MobileQubes team.
Within minutes of getting her Qube, her phone was back up and she was on her way to reunite with friends and make it home safely. She recalled that it felt like MobileQubes had saved her life. While this may be an overstatement, we like to think that our product makes life easier and more convenient, especially in moments when you may need a little help staying connected.
Tell us about the role MobileQubes will play during New Orleans Entrepreneur Week.
MobileQubes will be taking part in a Demo Day Session focused around "VC ready" companies. We feel that we have proven our technology, model, and revenue opportunities, and we hope to share our story with potential investors who can help us grow and scale quickly. Aside from that, we will be attending various events throughout the week to support our fellow New Orleans entrepreneurs and experience all of the innovative companies starting and growing with us in our city.
Do you believe that the entrepreneurship of MobileQubes has affected tourism in New Orleans? If so, how?
Do we feel that visitors are making the trip to New Orleans just to use our product? No. But we are hopeful that for those visitors who use MobileQubes during their time in New Orleans, their experience was made more convenient and enjoyable because they didn't have to worry about their devices going dead.
Some customers who have used MobileQubes from out of town have also told us that they were pleasantly surprised to find such a new and interesting piece of technology coming out of a historic place like New Orleans.
What would your team like to see New Orleans accomplish in the future?
Keep growing. Keep improving. Keep advancing. From technology, to education, to infrastructure and public health and safety – we hope that our community will continue to work together to demonstrate to the world what can happen when people are faced with problems or tragedy but persevere despite the challenges. We have come a long way, but there is much more to do. We are happy to be a part of it all and hopefully do our part to make New Orleans even better.
What do you think New Orleans would look like without tourism?
We think they go hand in hand. Our local culture and community is so rich that it is a natural draw for people to come and experience it, from around the world. The fact that New Orleans has the historical character that it does, and the deep cultural roots that are evident in every day life here in the city, make it unique and therefore a place that is a must-see for the rest of the world.
What do you love most about running a business in this city?
The community support of local companies and entrepreneurs is unlike any other place in the U.S.  People from New Orleans are steadfastly proud of where they come from and always support those people and organizations who are doing interesting things our of the city. Having an entrepreneurial eco-system in place here inspires us to continue to work harder and to hopefully give back to the next people with crazy ideas who follow us.
Where can a MobileQube be purchased/charged?
You can purchase your own Qube from any of our fully automated kiosks around the city. We also sell them on our website, www.mobilequbes.com. Keep an eye out for more locations coming soon.
NEW ORLEANS WILL…
Charge up and charge on!